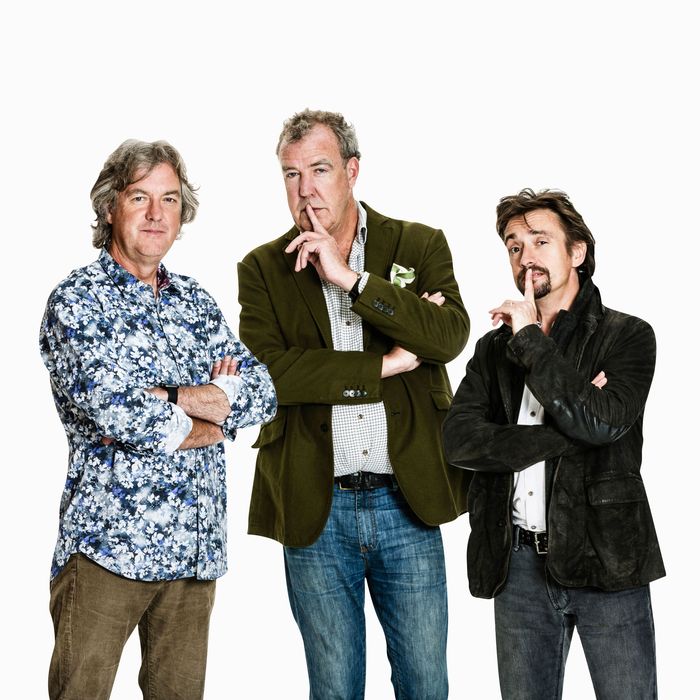 The road to get to Jeremy Clarkson, Richard Hammond, and James May's new motoring show has surprisingly not been as long and winding as people might've expected. Following Clarkson's termination from the BBC last year after a "fracas" with a producer, the ex-Top Gear hosts soon decamped to Amazon Prime to begin filming a new and improved show, named The Grand Tour. It's now been a few months since the trio began filming their exploits, so what exactly can we expect when they make their debut on the streaming service later this year? Buckle up — here's everything we definitively know about the show so far.
The name.
Harking back to older European terminology, the show will be called The Grand Tour. The word "gear" couldn't appear in the title due to pesky legal reasons. "Every morning, I'd make a £7000 call to the lawyer with an idea, and every afternoon I'd get a £7000 reply saying it was already in use by someone in New Zealand or France or Ukraine," Clarkson wrote in his weekly column for the Sunday Times. "Prime Torque. Autonation. Skid Mark. Everything was a no-no." As May pointed out, the new name is an anagram for Hot Grunt, Dear.
The premiere date.
An undisclosed date in the autumn of this year, potentially "Octoberish."
The platform.
It'll be streaming exclusively on Amazon Prime (you'll need a subscription to watch). And Clarkson, Hammond, and May are making some serious money. (Reportedly around $7 million per episode for the three to split.) Amazon CEO Jeff Bezos said the hosts are "very, very, very expensive … they're worth a lot and they know it."
The contract.
Thirty-six episodes over a span of three years. (So, 12 per season.) One of the episodes from the first season will be a Christmas special.
Who else besides Jezza, Captain Slow, and Hamster will be there?
Andy Wilman, who served as their executive producer for the old Gear. All four of them own the independent production company W. Chump and Sons, headquartered in London, which will be producing The Grand Tour.
What about the Stig?
The Stig's staying at the BBC. If you need a weekly fix of the famously anonymous "tame racing driver," you're going to have to watch the rebranded Top Gear.
The logo.
Pretty retro!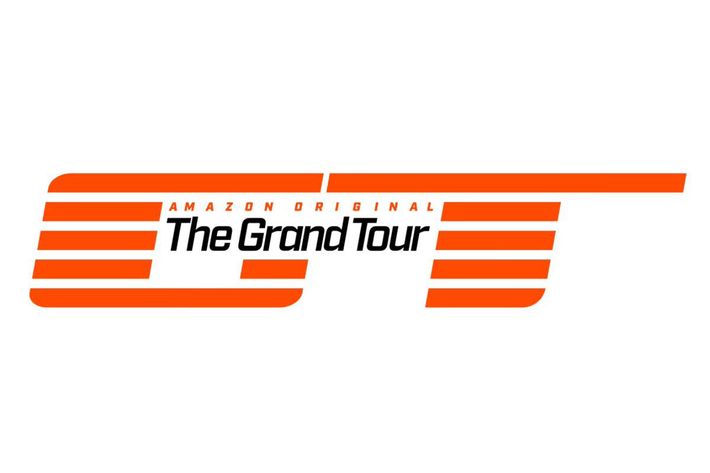 The format.
As with the original Gear, a large number of pre-recorded films shot all over the world will be the show's bread and butter. But in other ways, the show will noticeably differ in format. For one, it will include studio-audience recordings that will take place at a different international location each week. These pre-recorded studio sections will be filmed in a giant green tent in front of a live audience. The only confirmed places so far where the tent will be pitched are Yorkshire, England, where all three hosts grew up, and Johannesburg, South Africa. Johannesburg will serve as the first official studio-audience recording on July 17, and the tickets, if you're able to acquire one, are free. Amazon customers will have a chance to win tickets for the tent-filming portions this summer. (Some people have already won.)
The filming locations. (And, of course, the vehicles.)
The Grand Tour has begun filming in numerous locations around the world. The trio began shooting in Algarve, Portugal, at the Algarve International Racetrack last October. Also in attendance? A beautiful Ferrari LaFerrari, McLaren P1, and Porsche 918 Spyder:
In December, May was spotted with his arm in a sling while filming between Honfleur, Deauville, and Le Havre in northern France, following the trio's live show at the O2 in London. Three Maserati Biturbo 430s were also present. Clarkson and Hammond were late to the filming locations:
In mid-February, May was photographed driving (and subsequently breaking down in) what appeared to be the fan-favorite Reliant Robin in central London. (It was actually a Reliant Regal.) However, Clarkson claims the cute three-wheeled vehicles are just "company cars" for W. Chump and Sons, and will not actually be featured on the show:
Later that month, the trio left Europe to begin shoots in the sunny paradise of Barbados:
The show's production began escalating in March. The hosts were first spotted in the streets of Surrey, England, with a giant Mercedes. Next was northern Africa, where they all shot near the Game of Thrones set outside of Marrakesh, Morocco:
In early April, Clarkson and Hammond filmed in Amman, Jordan, where Clarkson sustained noticeable injuries following a stunt:
The trio were next spotted with a production crew at Coys at Ascot, a noted classic car auction, where they were seen enthusiastically bidding on various vehicles. Later in the month, filming continued with Clarkson in Burghausen, Germany, and other German locations:
In mid-May, all three hosts filmed in Namibia. (Remember the 2007 Botswana Special where they had to drive to the Namibian border?) They appeared to be roughing it a lot:
Later in May, Clarkson and Hammond filmed on some tracks in Devon and Somerset, England, with a Ford Mustang GT and Ford Focus RS — they raced around and did some donuts.
The (somewhat official) hashtags.
#TheGrandTour or #GT