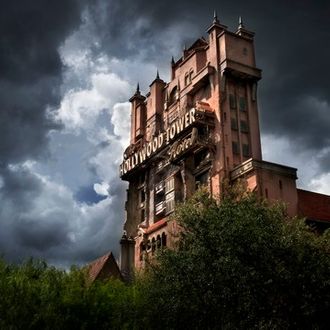 The Twilight Zone Tower of Terror, usually just called the Tower of Terror, is based on a very simple, fear-inducing premise: Go up very high, fall down very fast. The Marvel Cinematic Universe, led by Supreme Leader Kevin Feige, also operates on a very simple, fear-inducing premise: Make a lot of money. It only makes sense that Marvel, like an unstoppable disease in the board game Pandemic, would spill its parasitic influence onto the beloved, 199-foot ride and transmogrify it into something monstrous. Yes, The Tower of Terror in Disney's California Adventures park is quite possibly becoming a Guardians of the Galaxy–based ride. MiceChat, a Disney-centric blog, confirmed the news (though Disney has yet to officially comment):
The current plan for Tower of Terror is to close the attraction this fall and give the entire building a full interior and exterior refurbishment so that the new version of the ride can open next May, with the Guardians of the Galaxy movie premiere held at DCA the same week the new ride opens. Assuming this gets the green light by August, and a disastrous Shanghai opening summer is about the only thing that could derail it at this point, the CM's will be treated to another round of approved Talking Points that will somehow explain that they can now believe what they read online about Guardians of the Galaxy taking over Tower of Terror. The hourly CM's, of course, are already several steps ahead of TDA.

This Tower of Terror proposal is part of a multi-year plan to get more Marvel into DCA, being pushed heavily by Bob Chapek. Since Chapek arrived a year ago as the new Parks Chairman, he's been shocked to learn that after five years of owning Marvel there still isn't a new Marvel ride in the California parks, and that the only thing TDA has done with Marvel is slap together some cheap meet n' greets over the years. The plan now is to adjust the Marvel mega-coaster from its original spot in the Timon parking lot to fit into the northern end of Hollywood where Stage 17, Monsters Inc., and the unused Stage 12 buildings are. This would save Timon for future DCA expansion, and better use the under-utilized space on the opposite side of Hollywood Land.
A giant corporation slowly taking over the world? That almost sounds like something from a superhero movie. Hmmm.