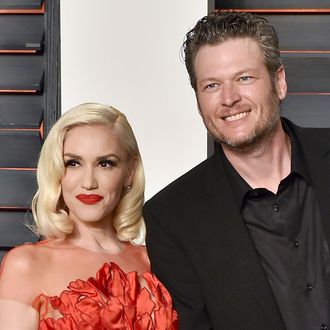 Break ups ain't bad if you look this good.
Photo: Axelle/Bauer-Griffin/Getty Images
Blake Shelton and Gwen Stefani, poster children of the post-divorce rebound, are here with a nice country jam in honor of all that's good about breaking up. Shelton released "Go Ahead and Break My Heart" off his upcoming album If I'm Honest earlier today. The pair recorded the duet last fall, and it's their first major musical collaboration (aside from a spin on Fallon). What do two happily rebounding partners sing about? Well, mostly how their exes should just bite the bullet and leave them already. "If you really need a brand new start," the chorus concludes, "why don't you go ahead and break my heart?" In going country, Gwen faces the difficult challenge of filling Miranda Lambert's big bedazzled cowboy boots, but this'll certainly do as a start. Now, when is Blake going to try out some ska? The full song is available on iTunes, or listen to a preview below.