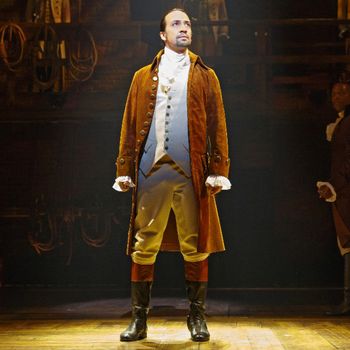 Does Hamilton have a chance to beat the record set by The Producers for the most Tony wins — 12? Mathematically, yes. But to do this it would have to sweep all 13 categories in which it is nominated, a feat that even with its 16 nominations I highly doubt it can achieve. Hamilton is vulnerable in the women's acting categories and, thanks especially to Shuffle Along, in design. And some voters, having acknowledged the year of Miranda with the top awards, may simply wish to spread the wealth among many other deserving artists.
In any case, though this is still early days, I would guess that only three categories are "locks," with another five likely, and three more toss-ups. That leaves the likely Hamilton haul at nine or ten. Still impressive, but not like The Producers, which was lucky enough to come around in a miserably weak season. That may be the only smart move Hamilton didn't make.
LOCK
New Musical: If this weren't a lock, the producers of Shuffle Along, the only feasible competition in the category, wouldn't have petitioned the Tony's Administration Committee to consider their show a revival. The committee declined the request. (You may safely put the chances of the other nominees — School of Rock, Bright Star, and Waitress — at zero.)
Score: Despite a lot of deserved good will toward Sara Bareilles for her Waitress music and lyrics, the whole Hamilton juggernaut is built on the exceptionality of Lin-Manuel Miranda's hip-hop/Broadway crossover songs.
Actor in a Leading Role: Miranda's co-star Leslie Odom Jr., also nominated in the category, gives an award-worthy performance but, really, can you see anyone voting for Burr over Hamilton? The other actors in the category — Alex Brightman in School of Rock, Danny Burstein in Fiddler on the Roof, Zachary Levi in She Loves Me — are all well liked and admired in their roles. Burstein, in particular, is a Broadway favorite in an iconic part. But this is not the Fiddlertonys.
LIKELY
Book: Some voters may be uncertain about the nature of Miranda's achievement here, since a lot of the book is buried in the score. On the other hand, there's not much credible competition. Steve Martin's book for Bright Star was roundly panned by critics; Julian Fellowes, late of Downton Abbey, seemed to be completely out of his element in School of Rock. And George C. Wolfe's work on Shuffle Along is proving highly divisive, with most reviews (including mine) noting that the second act doesn't hold together as brilliantly as the first.
Actor in a Featured Role: If there is such a thing as splitting the vote, this is the category in which it would happen: Hamilton's Daveed Diggs (as both Jefferson and Lafayette), Christopher Jackson (as George Washington), and Jonathan Groff (as King George) are all nominated. Also strong is the non-Hamilton competition: Brandon Victor Dixon in Shuffle Along and Christopher Fitzgerald, who steals a hunk of the show in Waitress. Still, Diggs is thrillingly charismatic and, for most audiences, an out-of-left-field surprise. The buzz is his.
Actress in a Featured Role: Renée Elise Goldsberry is terrific as Angelica Schuyler, Hamilton's sister-in-law and (oops) lifelong love. But the part is relatively small, and voters who are looking to share the Tony wealth with other shows may well look here. Jennifer Simard as the sinking nun got raves among the otherwise mostly negative reviews of Disaster! and Adrienne Warren, as two different ingénues, was likewise praised in Shuffle Along. But if anyone were going to dislodge Goldsberry it would be Danielle Brooks as The Color Purple's survivor Sofia or Jane Krakowski as (what else?) the slutty sidekick in She Loves Me.
Director: Thomas Kail is credited not only with the usual directorial duties of staging, conceptualizing the look and feel of the production, and shaping the performances, but with keeping the huge ship Hamilton sailing steadily from its earliest phases as The Hamilton Mixtape through the Off Broadway production at the Public Theater to its eventual berth at the Richard Rodgers. He would be hard to beat, and yet even among the 850-some Tony voters, many don't really understand (or appreciate) what directors do. They could be drawn to the a more familiar name like Scott Ellis of She Loves Me or John Doyle of The Color Purple, both of whom have done prize-worthy work. Or they may want to reward the arresting new vision Michael Arden brought to the Deaf West production of Spring Awakening. Or, most likely, they might want to give George C. Wolfe, unlikely to win for the book of Shuffle Along, this prize for his other overwhelming contributions to that show. All that said, I'm still guessing Kail.
Costumes: Paul Tazewell may be singlehandedly responsible for the return of Revolutionary chic (check out Sarah Jessica Parker at the Met Ball) and will probably take home a prize for it. But he has strong competition from Ann Roth, whose exquisite 1920s designs for Shuffle Along tell half the story. The others in the category — Jeff Mahshie for She Loves Me and Gregg Barnes for Tuck Everlasting — need not rehearse a speech.
TOSS-UP
Choreography: In any other year, Andy Blankenbuehler's musical staging of Hamilton would walk away with the Tony. But this year Savion Glover is offering, in Shuffle Along, perhaps the most astounding tap choreography ever seen in a book show. (Randy Skinner, also nominated in this category, likewise went tap crazy in Dames at Sea, but to much less effect.) Complicating matters is Hofesh Shechter's complete rethinking of the Jerome Robbins dances for Fiddler on the Roof. Perhaps we need a dance battle for this one.
Lighting: Howell Binkley's work on Hamilton is fantastic, but the extremely high standards of lighting design on Broadway today mean that everyone in this category is doing Tony-level work. Binkley's top competition comes from the vets Jules Fisher and Peggy Eisenhauer, who made the light in Shuffle Along not only part of the fun but part of the terror. Come to think of it, the same applies to Justin Townsend's work on American Psycho. Ben Stanton's design for Spring Awakening was also beautifully dramatic. But it's either Binkley or the Shuffle team; I can't guess which.
Orchestrations: No laymen, and very few Tony voters, know or care much about this category, though the work is difficult and crucial. Alex Lacamoire's orchestrations for Hamilton are groundbreaking, finding ways to bridge the stylistic gaps that are built into the material, so perhaps his will be the line of least resistance. But Daryl Waters has also done something stupendous with Shuffle Along, making a new musical out of a jigsaw puzzle of old tunes.
UNLIKELY
Actress in a Leading Role: Phillipa Soo, as Eliza Hamilton, is the most vulnerable of the Hamilton performers. Not that she isn't excellent — she is! — but with all those men hogging the spotlight the role feels more secondary, or even tertiary, than "leading." What's more, the four other actresses in the category are giving superb and truly leading performances: the newcomer Carmen Cusack in the otherwise negligible Bright Star; Jessie Mueller (who won two years ago as Carole King in Beautiful) in Waitress; longtime Broadway favorite Laura Benanti in the classic musical comedy She Loves Me, and Cynthia Erivo, blowing down the walls nightly at The Color Purple. The buzz favors Erivo.
Scenic Design: David Korins's sets for Hamilton are highly effective but not very showy; they carefully recede so as to foreground the complicated words and movement. Same with Santo Loquasto's designs for Shuffle Along. Tony voters usually go for the razzle-dazzle, and they are more likely to find it in David Rockwell's pastel Art Nouveau valentine of a set for She Loves Me or in the Reagan-era abattoir that Es Devlin (and the projection designer Finn Ross) built for American Psycho. Because his set opens up like a Fabergé egg, I think Rockwell will win it.