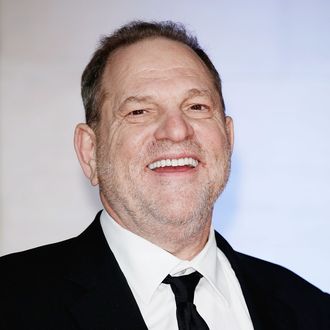 Photo: John Phillips/Getty Images
Back in 2011, Unauthorized: The Harvey Weinstein Project was released to very little fanfare despite being the first documentary to exclusively focus on Harvey Weinstein, the larger-than-life film-studio mogul behind Miramax and the Weinstein Co. Directed by Barry Avrich, the doc attempted to examine the prolific life and work of Weinstein through an uncensored lens, primarily by utilizing insider interviews and archival footage. However, the person whose cooperation mattered most, Weinstein himself, was less than enthused at the prospect of being a subject on the big screen. And that's putting it lightly.
In an excerpt from his upcoming book, Moguls, Monsters and Madmen: An Uncensored Life in Show Business, published in The Hollywood Reporter, Avrich explains just how incredibly persistent Weinstein was in sabotaging the doc since its inception.
Weinstein's initial reception to the project was chilly, if not a bit humorous:
I said repeatedly to Weinstein, "I'd like to make a film about you," and he replied each time with increasing force, "No, I don't want you to do it right now." Eventually, he added, "I shouldn't tell you this, but Quentin Tarantino is already filming a documentary on my life."

I replied, "Harvey, I find that hard to believe. He's working on Kill Bill Vol. 3."

I heard another filmmaker — certainly not Tarantino — had tried to document Weinstein, who was said to have pushed him right out of the business. But Harvey also had sent me a pleasant note about The Last Mogul. So, maybe? When I contacted him again, he sounded more conciliatory. "Barry, I'm not ready to make the film, but when I do, you're the guy."
Avrich persisted, and soon was able to get financing as well as domestic and international rights for the doc. This prompted a meeting with Weinstein on the weekend of the 2011 Oscars in Beverly Hills, where Weinstein attempted to bargain with other potential projects:
Harvey immediately began working me over with his charm offensive. "Barry, I'm not ready to do this film. I've got a family, you know, and I'm building my new business. Let's do something else together. Do you want to make a film about Martin Scorsese? I can get that done."

"Not really. That film has already been made. Harvey, when I made The Last Mogul, you told me —"

"Fantastic film! Could I have another DVD of it?"

"Sure. I'll send it."

"How about a movie about Arthur Krim? Great story!"

"Who?"

"Arthur Krim. He created Orion Pictures and was an adviser to Lyndon Johnson."

Another dead man. "Harvey, fewer people will go to that film than a film about you."
By mid-June 2010, Avrich completed the rough cut and IFC Films offered him a substantial monetary deal. But then problems began to arise. While searching for a narrator, a list of options — including Peter Fonda, Christopher Plummer, and Frank Langella — refused the gig for fear of upsetting Weinstein. While an easy fix, IFC came back with specific demands about what scenes needed to be cut, because, you guessed it, IFC does frequent business with Weinstein. Soon enough, Weinstein was calling the shots.
"True, Harvey hadn't killed me, as my mother feared, but he had sucker-punched me," Avrich writes. "Had Harvey instructed IFC to buy my film to control it?" For the next year, Avrich was either fighting over creative control or being ignored by IFC, prompting him to think he was "pretty sure IFC had bought my film to bury it." It was eventually released in October 2011 on IFC's download service SundanceNow.com with no publicity. Avrich ended up screening the film at New York University later that year, where he invited "key players from New York and L.A." to formally view the doc, where it received mixed reviews.
So, budding documentarians of the world, perhaps heed Avrich's cautionary tale: Find a compelling subject, other than Harvey Weinstein.