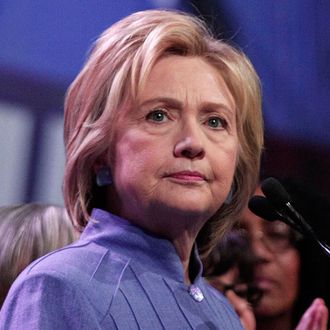 During a visit to Ellen Tuesday, Hillary Clinton inched just a little bit closer to confirming a dream I had once: Beyoncé as the VP nominee. Well, to back it up a few steps, Hill confirmed that she is a fan of Lemonade, which, okay, close.
Ellen and hip Brooklyn kid Hillary did some Facebook Live-ing with a rapid-fire-round questionnaire. And, of course, there was a Bey question (coming from one Ms. Taylor Swift).
Ellen: Have you seen Lemonade and do you like it?

Hillary: I have seen parts of it, and I do like it.
Well, there you have it: "I have seen parts of it" could be taken to mean, "I am reviewing my vice-presidential candidates thoroughly."
Or it could just mean that Hillary needs to skip an interview or two to watch the rest of the visual album. Because if you want to get to know "the American people," Hill, you gotta just watch all of Lemonade.