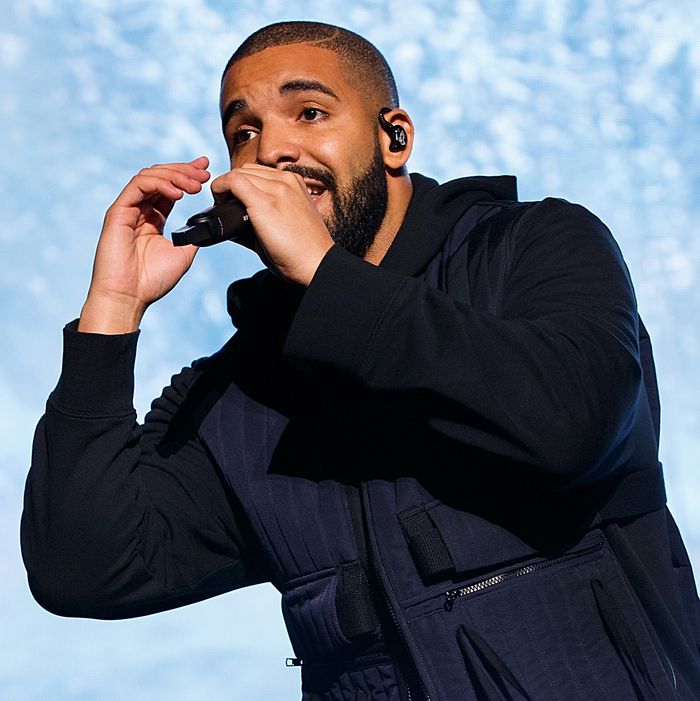 Drake.
Photo: Andrew Chin/Getty Images
Last week, Beyoncé released her album, Lemonade, and it already feels like a classic for its sound, its visuals, the subject matter, and her championing of women, especially black women. Earlier this year, Kendrick Lamar followed up To Pimp a Butterfly with untitled/unmastered, met President Obama at the White House while rocking cornrows, and talked black power on the most public of stages, for all to hear and see. Kanye West unveiled The Life of Pablo with a listening session at Madison Square Garden, and then tweaked it even after its release, redefining the term "final product." And even though we'd have been satisfied with just another Rihanna album with a few chart-topping bangers, she went ahead and made ANTI, the best album of her career. This was all in the first four months of 2016. And then came Views.
Much of the excitement leading up to Views, Drake's official follow-up to 2013's Nothing Was the Same (and to his 2015 mixtapes If You're Reading This It's Too Late and What a Time to Be Alive), stemmed from the assumption that it would mark a new chapter for him. Drake was already more famous than his fellow rappers, but what would he do next? How would he put more distance between himself and his peers?
Drake should never have been as dominant as he is in 2016. He was never supposed to succeed with a closet full of so many skeletons: He's Canadian, half-Jewish, a child star, legally named Aubrey — at least one of those things should have derailed the train. In some ways, he came of age in the right cultural moment, but he was such a star that the moment seemed to bend to his will. The songs were too good, the hits too frequent, the smile too big, the appeal too vast. The end result: Drake, worldwide superstar.
As he got bigger, we came to expect more from Drake than from other rappers. We held him to a different standard and wanted him to be more than just a hitmaker. But why? Because he was less 'hood? Did his clever lyrics suggest intelligence, which suggests worldliness, which suggests some awareness of social responsibility? Was it because he loves his mom? Because he's mixed? Had a bar mitzvah? Or simply that he's proven to be Teflon, and you want those with the ability to do anything to do everything.
Regardless of our reasons, we wanted something from Drake. But what does Drake want? With Views, it's clear — Drake wants to be the biggest, so Drake doubled down on Drake and made another Drake album. With this album, Drake has done little more than give us a dispatch from the world's biggest rapper. It's hot-hand music, You know what's better than a million dollars? … a billion dollars music. It is the album you make when you want No. 1, when you want the gold, when you want the belt as the biggest musician alive, right now.
Views is a progression in many ways — some musically, some lyrically — compared to previous Drake albums. But while his peers have taken some chances, Drake made some minor tweaks to the formula. So Views is a perfect album for the present, but it's a shortsighted one, and one that suffers less from quality and more from the timing of its release, in the shadow of his peers. Beyoncé, Kanye, Rihanna, and Kendrick are like doomsday preppers, making calculated decisions for the future — they know they won't be the cutest forever, and they know that others are coming up behind them with youth, energy, and newness on their side, so it takes fresh thinking and creativity to stay on top.
Views is not that. It's Drake, trying to squeeze every drop out of his 20s, fully in denial that he's about to turn 30, which is old. It's not career planning, it's now planning. And the now that matters is being a star, right now. Of course, he's currently outselling Beyoncé — Views is like a news-making tweet, a popular Snapchat story. The meme of him sitting atop the CN Tower is permeating the culture more than any track on this album. It's the perfectly manicured Zeitgeist album for the present, unconcerned with the future. And it's eerily poetic that he named it Views, as it mirrors what's currently thought of as important: getting the masses to click, to watch, to hit play — and who cares if they hit repeat. Remember Avatar? The movie with the blue people? And how it made all the money, really mattered, and then it didn't, and then it was over like it never happened? Views is Avatar music, and it's unclear how its short-term gains will manifest themselves, especially as Drake's fellow stars plant seeds for the future.
Drake never said he wanted to be anything more than the star that he is. We may have wanted Drake to evolve into something else by now, but he never said he would. Views is a full-scale investment in the current brand of Drake — the look, the sound, the narrative. So in that, Views is authentic. You do wonder, however, if he'll have that moment like his peers where they risk current stardom for longevity. In order to do that, you have to believe your talent and appeal are sustainable, not simply sought-after in the present. It's rare to get more interesting as your fame and riches increase. Some of Drake's peers actually have, in a way that he has not. We originally fell for him because he wasn't cool, didn't scream popularity, but was interesting and a true talent. Drake started well ahead of the curve. But with Views he seems to have caught up to himself.