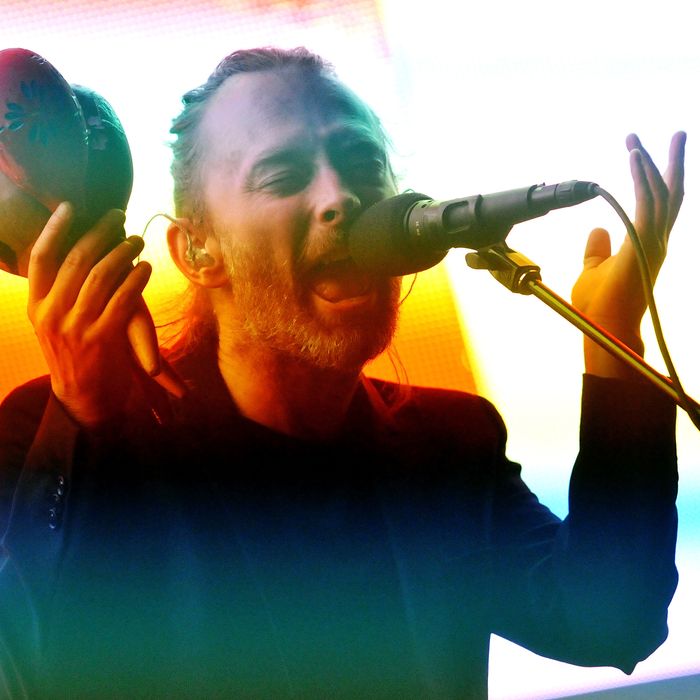 Photo: Jim Dyson/Getty Images
While casual Radiohead fans can enjoy the basic sonic pleasures of A Moon Shaped Pool, the band rewarded die-hard devotees with the album's closer "True Love Waits," a 1995 track that's never made it on to a recording despite multiple efforts. Featuring some of Thom Yorke's most romantic lyrics, the song has transformed over time from an acoustic number to a sparser, more profound electronic-based version heard on the new record. Now that we can queue up a studio version at will, let's take a look back at the song's evolution.
1995
Touring behind their second album, The Bends, Radiohead debuts 'TLW' at a December show in Brussels. This version features Yorke on acoustic guitar enhanced by an airy keyboard melody. Later, when describing the lyrics, Yorke revealed that the lines "And true love lives/On lollipops and crisps" were inspired by a story he read about a child who survived on those snacks after being left alone when his parents went on weeklong vacation. The first verse — "I'll drown my beliefs/To have your babies/I'll dress like your niece/And wash your swollen feet," represents "the difference between young and old, when people start to dress sensible and act their age. This person is offering not to do that to keep the other."
1997
Radiohead records the song for OK Computer, but it doesn't make the final cut. That version has never been released.
2000
The band tries recording the track during the sessions that would eventually become the Kid A and Amnesiac albums. Writing on Radiohead's website in January, guitarist Ed O'Brien mentions 'TLW' in an update from the studio, saying, "[It's] been kicking around for about four years now and each time we approached it we seemed to be going down the same old paths. It actually sounds like the start of something exciting now."
A month later he adds to that, "This is something like approach number 561 but it is a great song. It's simply trying to find a way of doing it which excites us. And we may have found a way, at the very least we've found a new approach. … It may of course be utter crap and we have so lost the plot on this song. Please don't let that be the case." The song returns to the band's live set at a July concert in Tel Aviv, the first time it's been performed since '95, but ultimately it doesn't make it on to either album.
2001
Performing the song with a bit more regularity — seven times over the course of the year, according to Setlist.fm — Radiohead gives in to fans' wishes and releases a live version on the eight-song I Might Be Wrong concert album. "True Love Waits," performed solo by Yorke in Oslo, is the final track. In a 2012 interview with Rolling Stone, producer Nigel Godrich comments on the live rendition: "We tried to record it countless times, but it never worked. The irony is you have that shitty live version. To Thom's credit, he needs to feel a song has validation, that it has a reason to exist as a recording. We could do 'True Love Waits' and make it sound like John Mayer. Nobody wants to do that."
2003
This year, the quintet performs the song a whopping six times. Performing it as the third and final encore at New York's Beacon Theatre, Yorke says, "This is a song that didn't see the light of day for a long time, and then sort of did, but it kind of needs to do it more."
2006
As a preview of what's to come ten years later, Yorke unveils a slower, echo-heavy, keyboard-based arrangement for the song, using it as a brief introduction for Kid A's "Everything in Its Right Place." He'll again use this version on their 2009 and 2012 tours, tinkering with the chords and effects.
2009
At a solo set at the Latitude Festival, Yorke closes out the evening with the original acoustic version, saying, "This is another old song from the shelf. It sort of fell off once. Basically, it's still on there."
2016
Amid more fan speculation that Radiohead will release a studio version of the song on their ninth album, A Moon Shaped Pool debuts on May 8 with a nearly five-minute version of "True Love Waits" indeed closing out the 11-song LP. It's anchored by a minimal keyboard riff with ambient pulses, pluckings and piano flutters underscoring Yorke's yearning. It's far removed from the 1995 original but shares in its austere beauty — and even after its 21-year evolution from stage to studio, it still leaves fans with some message-board fodder: As one Redditor pointed out, if you put every song on every proper Radiohead album in chronological order, it's the 100th track they've released.