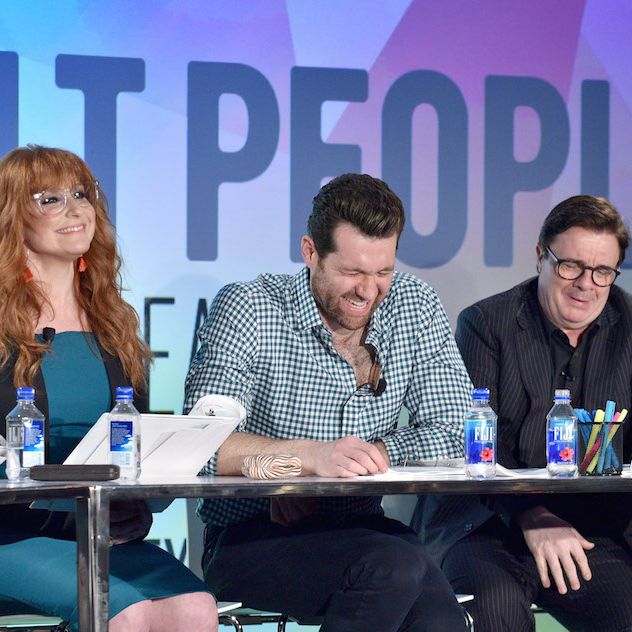 Julie Klausner, Billy Eichner, Nathan Lane and Amy Poehler at the Difficult People' table read at the 2016 Vulture Festival.
Photo: Bryan Bedder/2016 Getty Images
After landing guest stars like Fred Armisen, Amy Sedaris, and Kathie Lee Gifford in its first season, Difficult People's second season, which will return to Hulu on July 12, will be even more star-studded: Lin-Manuel Miranda, Tina Fey, and Julianne Moore, among others, are set to appear, the cast and producers revealed on Saturday during the Difficult People panel at this year's Vulture Festival, moderated by editor E. Alex Jung. The cast and producers of the Hulu series — including executive producer Amy Poehler, and new additions Nathan Lane and Megan Hilty — opened the event with a table read of season two's third episode, in which Lane and Hilty both appear.
To secure the guest stars, Klausner said she and the show's writers and producers sometimes write the role first and then hope to find the right star, but just as often they have the person first and then go from there. "We wrote that Christian Siriano thing before any of us ever got connected or reached out to him," Klauser said. Joel McHale, John Mulaney, Ken Burns, Debbie Harry, Method Man, Mark Consuelos, and several Real Housewives of New York will also appear on the new season of the show, which will premiere in July.
In the episode read at Vulture Festival, Hilty plays a patient of Andrea Martin's therapist character, and the two also knew each other from starring in Noises Off on Broadway. Hilty said she was a fan of show's first season — especially after being name-checked in one of the show's whirlwind pop culture references — and stalked stars Julie Klausner and Billy Eichner on Twitter. "I love the show and I'm such a huge fan of theirs, and I was like, 'Anything, anything, I will do anything. I will clean your floors,'" Hilty said. And, funnily enough, the part she ended up playing did include some housework.
Martin spoke highly of the way the show uses guest stars: "These guest stars really get to do fabulous characters. It really expands who they already are." Nathan Lane, an old friend of Martin's, voiced a bit of dissent, as his role had him playing a version of himself who had to stick his hand in a toilet. But, he said,  he preferred that to the alternative: "It was either that or a bisexual hairdresser." Nevertheless, he added, "I've done a lot of television and this was the most fun I have ever had on a television show."