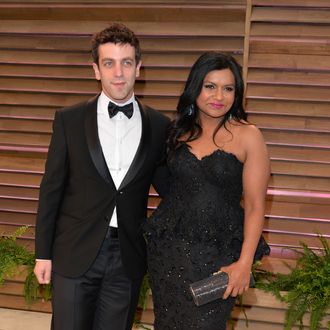 Photo: Alberto E. Rodriguez/2014 WireImage
The curiously delightful relationship between Mindy Kaling and B.J. Novak is well-documented by now, with the duo engaged in an endearing on-off flirtation since their years spent together on The Office. Now close friends, they've even secured a major book deal to write about their "weird as hell" relationship, reportedly netting $7.5 million for the manuscript. Breaking down a little bit of the mystique that clouds them, Novak recently spoke with The Guardian to detail how Kaling's trickery and lies on The Office set made his work life less than pleasant. "She would lie to me. She would make up these — just out of nowhere — purposeless lies that I believed," Novak said. "Like saying that Allison Jones, the casting director of The Office, was also an actress who had been the third lead in Cold Mountain. And so I just thought that." Kaling's astute lying, though all in good fun, ending up affecting Novak's psyche more than he would've liked. For instance?
"There was this director, this older woman who directed a couple of episodes, and Mindy told me I couldn't tell anyone, but Greg Daniels, the show runner, used to date this woman in college," he continued, also noting that Kaling texted him days prior with the idea of remaking I Dream of Jeannie. "And then Greg asked me what I thought of her cut and I lied to Greg and said I thought it was great, because I was nervous to insult his ex-girlfriend, so he didn't make the edits that I wanted. And later I asked him about it and he was like, 'What are you talking about? She's 20 years older than I am, we didn't go to college together!' I realized that Mindy just made it up and it actually affected my work life!" How very Jim Halpert of her.