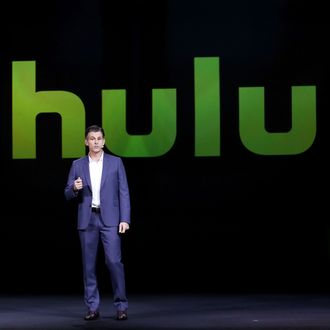 Photo: Bennett Raglin/Getty Images
At the Hulu Upfronts, in Madison Square Garden, the streaming service announced that it has already renewed some of its original programming: The Mindy Project will be back for a fifth season and The Path gets a second. But Hulu is also trying to expand its reach and get into the livestreaming business: the streaming network also acquired Ron Howard's documentary The Beatles: Eight Days a Week for exclusive streaming rights after it debuts in theaters, this fall. The film will look at the early years of the Fab Four and how they came together to become a musical phenomenon. The Howard project is the first documentary for Hulu and will also launch their documentary films department, where they will be airing original documentaries.
The streaming network also announced that it will partner with Live Nation to air concerts in a 360-degree, immersive format via its Hulu VR app. This is in addition to the fact that Hulu will also be airing live broadcast television in a "skinny bundle" from 21st Century Fox, the Walt Disney Company, and Comcast's NBCUniversal, which all co-own Hulu. This means live sports! News! Live events! Hulu didn't go into specifics during the upfront presentation, but news outlets reported that the bundle would cost around $40 per month and launch early next year. Soon, there will be no good reason to leave the house.