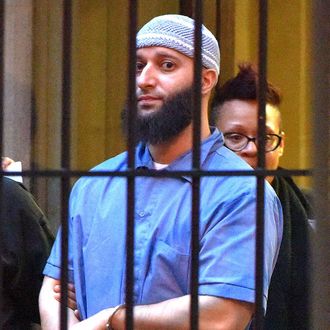 Oh, how we missed you.
Photo: Karl Merton Ferron/Getty Images
For most Serial obsessives, season two didn't live up to the hype of the first iteration. So what better time than now to check in on Adnan Syed, the convicted murderer whose potential innocence divided the country for months? To capitalize on lingering interest in Syed's case, Investigation Discovery has announced its own special, Adnan Syed: Innocent or Guilty?, coming in June. What new insight could the program possibly add that Sarah Koenig hasn't already sussed out? Probably not much more than the updates she provided in season two. But the documentary will include the first one-on-one interview with Syed's defense attorney, Justin Brown, who will apparently discuss the evidence currently being reexamined in Baltimore city court, including Asia McClain's potential alibi for Syed and the disputed AT&T cell-phone tower evidence used to convict him.
The special will also contain interviews with people closely associated with the case, including the medical examiner who reviewed the autopsy report, the lawyer who represented Adnan at his bail hearing, a juror from the 2000 trial, multiple friends of Adnan and Hae Min Lee, and the Woodlawn High teacher who was the last person to see Hae on campus. The special airs June 14, just in time for you to waste your entire summer on Reddit.