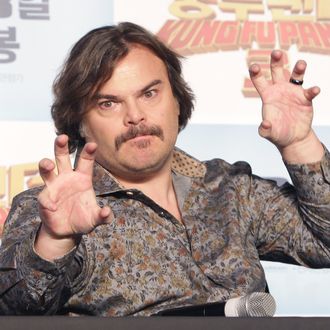 Jack Black.
Photo: Chung Sung-Jun/2016 Getty Images
Confirming a casting report from earlier Wednesday, Dwayne Johnson took to Instagram this afternoon to formally announce Jack Black's involvement in the Jumanji reboot. "In our reimagining of the story of JUMANJI, Jack brings that rare balance of cool with funny and edge with childlike joy," the Rock wrote. "Two big roles left. One bad ass girl. One semi-sorta bad ass dude. Who will they be … this is gonna be fun." Black (and his expressive eyebrows) also joins Kevin Hart and helmer Jake Kasdan, the latter of whom he worked with on 2002's Orange County.
The big update follows teases of castings and a special tribute Johnson promised on the same app a couple days ago: "The love and respect I have for [Robin Williams, star of the 1995 original] is boundless," Johnson wrote then. "You have my word, we will honor his name and the character of 'Alan Parrish' will stand alone and be forever immortalized in the world of JUMANJI in an earnest and cool way. I have an idea of what to do and I think his family will be proud." Johnson and Co.'s "reimagining" of Chris Van Allsburg's book, which will have five major roles, is slated to arrive July 28, 2017 — stay tuned, here, for more info.