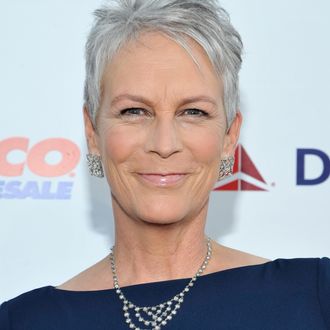 Jamie Lee Curtis.
Photo: John Sciulli/2014 Getty Images
In a new blog entry for the Huffington Post, Jamie Lee Curtis revisits her history with prescription drugs and urges readers to cease enabling their loved ones' addictions. The actress's post comes tied to the numerous reports that have referenced Prince's use of painkillers in the context of his death investigation. "I too, waited anxiously for a prescription to be filled for the opiate I was secretly addicted to," writes Curtis, who has been in recovery for more than 17 years. "I too, took too many at once. I too, sought to kill emotional and physical pain with pain killers." She goes on to call opiate reliance an epidemic and ends with a plea:
It seems now that the governmental body, the AMA, the FDA and the media are starting to address the rampant epidemic of opiate addiction. There have been reclassifications and attempts at reigning in the overprescription of opiates.

Most people who become addicted, like me, do so after a prescription for a painkiller following a medical procedure. Once the phenomenon of craving sets in, it is often too late.

I, like all of you, mourn the passing of a great artist but I also mourn the passing of potential artists past and present, caught in this deadly vise.

Let's work harder, look closer and do everything we can not to enable and in doing so, disable, our loved ones who are ill.

This is what it sounds like when we all cry.
In 2008, Curtis had told More magazine how a routine cosmetic surgery led to her problem. "The feeling I got from [the pills] was, Oh, wow, I feel better," she said. "So I rode that. No one knew."
Read Curtis's latest post, in full, here.