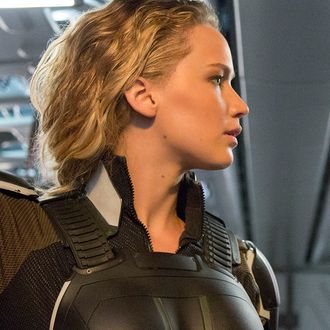 Days of future passing on another movie.
Photo: Alan Markfield/Marvel
When a young Jennifer Lawrence (well, she's still young, but younger) signed a three-picture deal to play often-blue mutant Mystique in the X-Men franchise back in the early 2010s, she didn't have a lot of leverage in Hollywood. That has, to put it mildly, changed. Her contract is up now that she's done filming next week's X-Men: Apocalypse, and she took to Entertainment Weekly to say it won't be easy to keep her onboard for future X-installments.
"[Co-stars Michael] Fassbender and [James] McAvoy and I were all talking," she told the mag. "Like, 'Will you come back?' 'I dunno.' 'I'll come back, if you come back.' Fox should be terrified because the deal we made was like if one of us doesn't come back, none of us are." She complained about the blue full-body makeup ("You go in and you realize you're rock bottom and like this sucks and it could not suck more") and was more or less open about how the franchise isn't that high a priority for her: "I love the fans and I love the character. But then you realize how important your year is, like how important three months out of your year is," she said. "I don't know. I shouldn't be that honest." No, no, please, keep it coming! We live for this stuff!