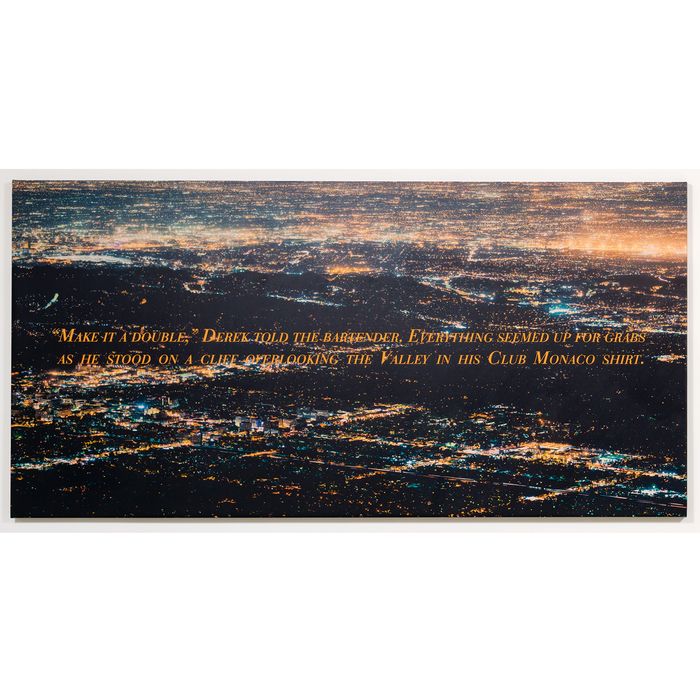 Israel and Ellis's Make It a Double, from 2016, at Gagosian Beverly Hills.
Photo: Jeff McLane/Alex Israel and Bret Easton Ellis; images courtesy iStock and Gagosian Gallery
The first thought I had about Alex Israel's show at the brightly lit Beverly Hills Gagosian was, "This should be a career-ender." The second thought was, "It also represents something bigger."
I usually write about New York shows, but I was in Los Angeles, so I went, and I discovered that I wanted to write about it. What was I looking at? Range Rover–size bland paintings on photos of L.A.: skylines, palm trees, the beach, all manner of Southern California cliché. Over these derivative takes on Richard Prince and Ed Ruscha, Israel has printed words, à la Barbara Kruger, written by the Gen X novelist Bret Easton Ellis. The show is their collaboration. Two of the paintings are almost as big as the billboards on the Sunset Strip, and on them you get L.A. nightscapes with banalities like "I'm going to be a very different kind of star," or silly circular musings that begin "The Uber driver rolled across an opulent stretch of Melrose," yadda yadda, "He looked as blank as his headshot."
Which brings you to the next gallery of Israel's rainbow-roll-shaped self-profile paintings. Headshots, I guess? The written-for-idiots press release says they're part of "Gagosian's Oscar show program" and that the work is about how the "American dream, as embodied by Los Angeles mythos, remains affecting and potent." I would have said that it's safely ready-made with built-in tells about Hollywood, the industry, and celebrity — all for local millionaires looking for art that reminds them of, well, them.
Maybe it rankles me that a young artist has figured out a facile formula to dupe L.A. collectors who want expensive visual comfort food. Regardless, the work feels flip, cynical, cellophane-thin — it's an artist gaming the system with theatrical bric-a-brac. With their slick surfaces, soft-hued hazy peaches-and-cream palette, and shaped configurations that look made for the architectural niches in L.A. mansions, Israel's paintings give anyone who looks at them knowing winks. Israel just adds saccharin to Abstract Expressionism and pretties up 1960s Color Field painting, giving those in the know the look of Jules Olitski backdrops and West Coast Rothko. Art as leisurewear. Easy-on-the-eye abstractions with cool cerebral cachet.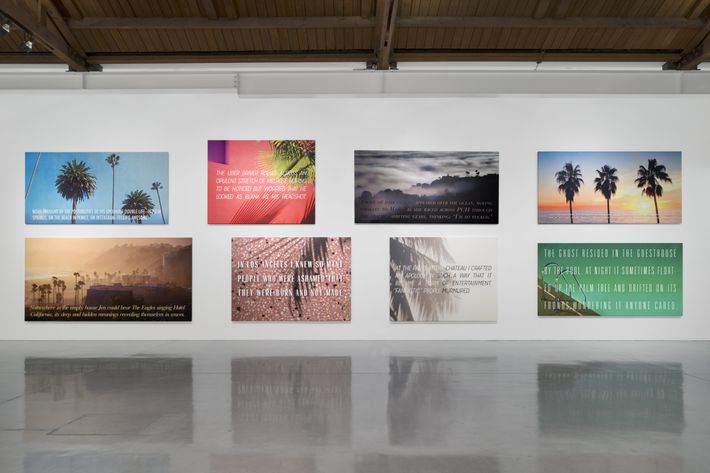 So what? Oblivious collectors collecting cheeky art shown by opportunistic galleries are nothing new. And I've really liked a couple of things by Israel, particularly his Reena Spaulings video exhibition "As It Lays" four years ago. (Founded in 2003, this Lower East Side gallery is so hip that almost anything shown here gains sway. I know people afraid not to like exhibitions there; the amount of coverage the gallery gets is off the charts.) In the talk-show-like video Israel showed there, he sits in a chair in front of one of his bland backdrop paintings wearing sunglasses he designed himself, asking celebs like Quincy Jones, Marilyn Manson, Paul Anka, and Christina Ricci silly questions like "Did you ever cheat on a test?" or "Do you take advantage of duty-free shopping"? (His Instagram of all the beautiful places he goes — that's the other thing I like about him.) The video is his version of Proust's questionnaire by way of Warhol's Interview, maybe. While it does get creepy when he asks Ellis, "Who should be the first female president?" and Ellis responds, "There shouldn't be one," I loved it. It's mesmerizing watching people mesmerized by being on camera mesmerize us. Old 1980s trope or not, it was the best feedback loop of 2012.
Since then, he's become a super-hot artist. Which makes him a very interesting case study, because success has changed him. He's 34, and his works regularly sell for hundreds of thousands of dollars, and have topped $1 million at auction. One is always wary of making generalizations, but when an artist is surrounded by this much money and success, becoming an anointed member of the jet-set, global mega-wealthy, it can be hard to make work that is about anything but lifestyle and success. The early work really got under our skin: It was wild not to know if we were on the inside or outside of that feedback loop. This newer work just gets on our nerves with its one-note archness, pretend critique, and go-with-the-decor aesthetic. At first, I thought museums would be resistant to this strain of easy art. Then, not two hours after I left the Gagosian exhibition, I walked into the big multiplexed Los Angeles County Museum of Art with its new pavilions, and the first thing I saw was Israel's gigantic, almost monochrome sunset-colored Sky Backdrop. It's a million-dollar selfie machine. I imagined a LACMA exhibition: "Alex Israel: The Early Year." Whatever they call those people who fill seats at the Academy Awards when the stars step out, that's what this art looks like; there but unobtrusive.

Israel seems to move smoothly in this milieu. He looks the part: handsome, well-dressed, always wearing his shades, with the mien of a Hollywood actor, he pops up constantly at big-deal benefits with film producers, Academy Award–winners, fashion designers, museum directors and trustees, and of course the globetrotting curator Hans Ulrich Obrist. True, the art world has always had flashes in the pan — posers, young male darlings, and theory-talking hipsters playing the system. Until now, most of them seemed to stay relatively nameless, part of the background, not gaining major market traction, existing more as dandies who turned up at parties. Perhaps more to the point, their ascents tended not to be quite so fast, and thus not so disorienting to the artists themselves and their work. Typically, over a decade they'd settle into a career, make middle-echelon work, get attention, cash in, and fade away. All not in such bright light.
Which brings me to the next point: I wouldn't be so worried about the market embracing these artists if I didn't suspect it was also destroying them, and in fairly short order. These days, we are getting more and more out-of-nowhere, or straight-out-of-art-school, one-hit wonders who break on the scene. And then they're gone. Many of the so-called Zombie Formalists who rushed the stage a few years back making more or less the same process-based, abstract, almost-monochrome paintings, immediately selling them to collectors for hundreds of thousands of dollars — artists who were in the auction news all the time — are already seeing the market for their work evaporate.
Making matters more lurid, rather than exhibiting with their peers and the gallerists they started with, many of these artists instantly began showing in mega-galleries. Israel and Dan Colen signed up with Gagosian, Oscar Murillo with David Zwirner. The turn-of-the-millennium artist Terence Koh started bigger, with Deitch Projects, then moved all over the place, turning up in Kunsthalles and even Charles Saatchi's private museum. Then he faded fast. (He too made early videos of himself interviewing celebrities like Marina Abramovic, Hans Ulrich Obrist, and Lady Gaga.) The German artist Anselm Reyle started showing with Gavin Brown in 2002, left for Gagosian by 2009, started selling work for huge prices, and became an auction phenom. At only 46, he's all but gone. These young artists are spending less time with their peers and have been surrounded by a much richer, older, faster set. And when rough times come, the artist lacks a great support network. A painter doesn't join Gagosian to have studio visits with Larry or to call him on all those dark nights of the soul. The costs can be high. Recent reports found Murillo, for instance, destroying his passport on a plane and saying things like "The West is a salivating penis." I feel bad for this 30-year-old. Sterling Ruby, an artist whose work I've loved (notably his gigantic ceramic atomic ashtrays), has gone from Foxy Productions to Metro Pictures to Pace to Hauser & Wirth to Gagosian. Mega-galleries aren't, by nature bad; it is great to strike it rich. But there's something foul about artists going almost from art school to one of these business behemoths and then disappear from any conversations except those about money and celebrity. This is how the art world eats its young.  
Who knows whether Israel will meet these fates? I've met him a couple of times and he's a nice guy, a smooth operator. I'm told he grew up in the son of a wealthy L.A. collector. Which shows: Much of this work — like most of the stuff I'm grouping it with — comes with heady underpinnings of art theory, art-about-art rationales, and other insider commentary, done in preapproved styles. The exact right ideas and periods of art history are put into conspicuous play: the 1960s and 1970s, permutations on Pictures Art, redoes of Koons, Kippenberger, Krebber, Wool, Warhol, Prince, etc. Art-world outsiders won't recognize the references, but insiders will. Everyone else can have them explained by patient gallerists excited to sell them another level of meaning. Which is only emptying this art more. The works appeal because they are simple, easy to digest, immediately recognizable as "cool" in a very decorative way — no one could object to them. But for those who need more, for those who want to feel flattered that they can see more historical content in the works, there is this secret second order of "content," invisible on the actual surface, passed along almost like gossip — Mandarin and market code for the privileged. But an art that can so comfortably have it both ways can't really be about much at all, can it? As with the Israel-Ellis collaboration, it's all air quotes.
"Alex Israel/Bret Easton Ellis" was on view at Gagosian Gallery Beverly Hills from February 25 through April 23, 2016.