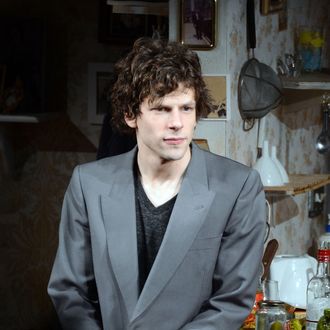 Photo: Andrew H. Walker/2013 Getty Images
Jesse Eisenberg, who was not one of the things we liked about Batman v Superman, confirms that he'll be returning as now-bald bad guy Lex Luthor for Justice League, which is due out next year. (He seems to enjoy BvS more than co-star Jeremy Irons.) Speaking at MCM London Comic-Con earlier today, Eisenberg confirmed his return in the film and said:
I'm kind of in wait. They just started filming Justice League, so I'm kind of like waiting for my crack at it. I don't know what I'm allowed to say, because I feel like there's probably some drone following me from DC, and if I say anything wrong I get, you know, picked off. But yeah I think so, and I love it, and I love everybody who's in it. You know, it's a really talented group of people.
Eisenberg had a very strange scene in BvS with some goop and floating boxes that ended up on the cutting room floor, which has lead some fans to hypothesize that Steppenwolf (Darseid's Uncle, not the rock band your dad loves) may be a villain in some future DC movie.