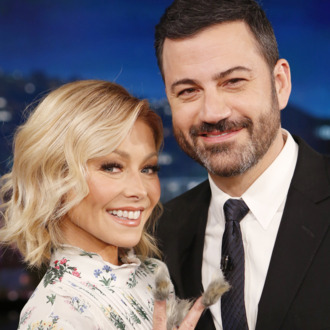 Kelly Ripa and Jimmy Kimmel.
Photo: Randy Holmes/ABC
The days of Live With Kelly and Michael are over, and we have returned once again to Live With Rightful Heir to the Morning Throne Kelly. After sending off Strahan with a toast last week, Ripa sat down with Jimmy Kimmel, who is less a possible replacement and more, in his words, "an ex-boyfriend you go back to for sex." Acting with the safety of a man who has a show of his own, Kimmel was free to ask all the questions Live viewers were afraid to ask, like, for instance, "Where's Michael?" and "What happened?" Later Kimmel brought on a Wheel of Fortune-style game to select Ripa's next co-host, which included totally usable suggestions Kylie Jenner, Pippa Middleton, and Becky With the Good Hair, but eventually landed on a "party-sized summer sausage." "The sausage says it's leaving to go to Good Morning America," Kimmel joked. Ripa, deploying an expert-level use of the word "gosh," responded, "Oh, my gosh, again? That's okay. Alright, maybe they have a turkey sausage."
Ripa will continue to cycle through co-hosts for the next few months. Later this week, she's recruiting the help of Jussie Smollett, Cedric the Entertainer, David Muir, and Daniel Dae Kim.