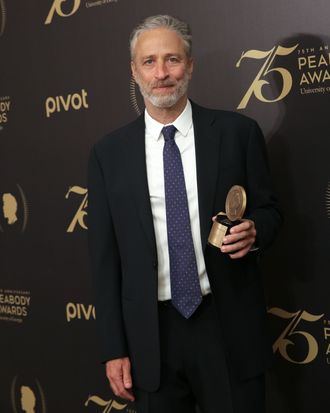 Stewart.
Photo: Brent N. Clarke/2016 Brent N. Clarke
Jon Stewart was honored at the 75th annual Peabody Awards last night for his work on The Daily Show, where he was joined on stage by the show's team to accept the prestigious institutional award. (Other winners include David Letterman, Master of None, Black-ish, and Jessica Jones.) Read his acceptance speech, full of signature Stewart quips, below:
Oh. I think we all miss Jon Stewart and I think we see, I think we see from that eulogy what a wonderful man he was. I hope someday I get to meet him, because he seems like a hell of a guy. Thank you so much for this. So good to see you. My children, all they want is to go to Keanu, and I keep telling them, They say "fuck" in it, so you can't go. And then they say to me, You just said "fuck." And I say, Got me again. Thank you for this. It is my 16th wedding anniversary. And every year on our anniversary, I try to get [my wife] a prestigious award, and every year I fail. This is the first year where it's actually worked out. Usually I just write on a piece of paper: "Nobel prize for having married out of your religion."

I'm shocked, to be here in a room with you guys, the amazing work that you're doing, I'm shocked at the breadth, and somewhat disappointed at the just terrible conditions in the world that you all are addressing through your good work, because I thought that we, over our 16 years, had healed a lot of this through witty repartee. But apparently shit's still going down. These are the folks that made this show, all those years. And I thank you for this award, because now I get to see them and hang out and have fun, and they unfortunately still have to do it. They go back and they continue to do great work with Trevor [Noah] and continue to make a wonderful show, and a powerful show. And I, through the power of my wonderful wife, have learned the pleasure of rubbing the bellies of farm animals, which is, I got to tell ya, really nice. So this is remarkable. I'm thrilled. I'm honored, to be amongst you. You are really our heroes. We tell jokes on 11th Avenue in front of a green screen. You actually go to these places and tell these stories through courage and clarity and brevity and power, and so in many ways you are what we all aspire to be and desperately cry out for. And so thank you for being that. And to my children, who are not here tonight, Boom. In your face. Yeah, daddy was gone for ten years. But guess what? Totally worth it.