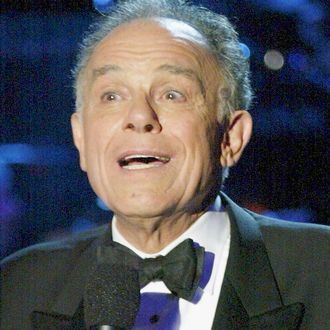 La Rosa.
Photo: Frederick M. Brown
Julius La Rosa, the classic pop singer whose on-air firing from Arthur Godfrey Time famously changed the course of his career, died last Thursday at his Wisconsin home. The 86-year-old's family confirmed the news for the New York Times and the AP on Sunday, citing natural causes. Born in Brooklyn, the crooner's dance with showbiz began amid a stint in the Navy after the renowned radio and TV host Arthur Godfrey discovered him at an enlisted men's club, invited him to perform on TV, and, on-air, promised him a full-time job once he was discharged. La Rosa accepted and upon his return in 1951, quickly amassed a passionate fan base as a radio and TV performer. Nearly two years later, however, La Rosa was fired for breaking two "Little Godfrey" rules, as detailed in A&E's below Biography clip:
Although the incident marked the end of a professional relationship with Godfrey, it only temporarily cramped La Rosa's trajectory — in fact, for the next few decades, the publicity boosted his popularity. The 23-year-old went on to notch such hits as "Domani" and the chart-topping "Eh, Cumpari"; appear as himself on The Ed Sullivan Show, along with several other TV series and variety shows; and take turns in Let's Rock, Shirley Temple's Storybook, The United States Steel Hour, and Another World — the last of which got him a supporting actor Daytime Emmy nom in 1980. The latter portion of his career also included working as a radio disc jockey, performing in stage productions, and playing nightclubs. La Rosa is survived by his wife, daughter, son, sister, and grandson.