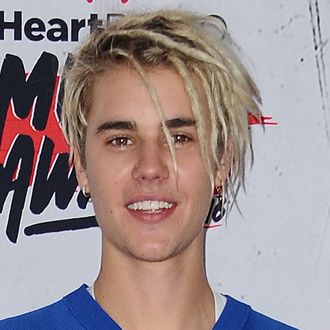 Biebs.
Photo: Jason LaVeris/FilmMagic
Justin Bieber wants fans to know the photo-ops are no more. In two Instagrams from Tuesday night, the Purpose singer explained he needs to set up boundaries because he feels he's no longer being treated or recognized as a human being. "I feel like a zoo animal, and I wanna be able to keep my sanity," his first pic (below) read. "I realize people will be disappointed but I don't owe anybody a picture." Counter-argument? Like, Well, I paid for your album, so you owe me a pic? He addressed that, too:
The update might recall similar sentiments shared last month by Amy Schumer, who was turned off of fan pictures after a South Carolina man violated her personal space and request for privacy. It also comes not long after the popstar canceled his backstage meet-and-greets and endured a (partly) frustrating Europe trip, both of which, he said, drained and stressed him to an unhealthy degree.
Tuesday's decision naturally angered several commenters on social media. One, whom the Biebs screengrabbed (below), wrote: "You're such a prick. Your fans are the reason you are as successful as you are. The least you could do is take pictures with them."
In the caption for his second upload, Bieber countered by underlining the importance of his freedom and concluding with a stand in the name of personal growth:
Years ago it was impossible to even take a picture at anytime not everyone was accessible to a camera now everyone has a camera phone and Now it's just a different thing.If you think setting boundaries is being a douche I'm the biggest douche around but I think it's smart and will be the only way I last. I wanna enjoy life and not be a slave to the world and their demands of what they think I need to do!! I love the fact that I am able to make people happy but cmon if you truly were in my position you would understand how tiring it is ( boo hoo Justin get over it) I'm going to keep making decisions I feel are fit for my growth and no human being will make me feel bad for it.