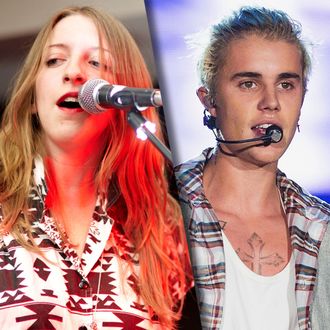 Oops.
Photo: Getty Images
Justin Bieber's apology tour might have to extend itself to court, because he and Skrillex have been sued for allegedly stealing parts of "Sorry." TMZ reports that indie singer White Hinterland, whose real name is Casey Dienel, filed a lawsuit against Bieber and the song's producer, Skrillex, claiming copyright infringement due to "Sorry" allegedly sampling a vocal riff from her 2014 song "Ring the Bell" without her permission. In a Facebook post, she explains, "Like most artists that sample music, Bieber could have licensed my song for use in 'Sorry.' But he chose not to contact me. After the release of 'Sorry,' my lawyers sent Bieber a letter regarding the infringement, but Bieber's team again chose to ignore me. I offered Bieber's team an opportunity to have a private dialogue about the infringement, but they refused to even acknowledge my claim, despite the obviousness of the sample." Ultimately, she says she was "left with no other option" but to sue. In the lawsuit, she claims "Sorry" steals eight seconds of "Ring the Bell" (mostly from its opening) that are looped six times.
Update: Skrillex has posted a video on Twitter to deny ripping off "Ring the Bell" for "Sorry." The short video shows how the producer created the disputed looped section in question, specifically with the original a cappella vocals performed by co-writer Julia Michaels. The captain reads with a prayer hands emoji: "SORRY but we didnt steal this."
Still unsure? Compare the two songs below and decide for yourself.