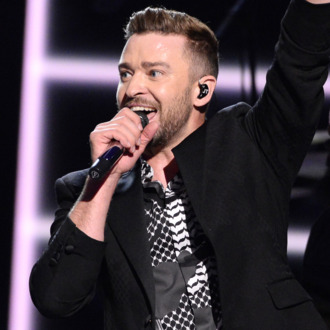 When Drake's Views debuted at No. 1 last week, he became the first male artist to sell 852,000 albums in a week since Justin Timberlake sold close to a million with The 20/20 Experience. Three years later and JT has played Drake at his own game: On this week's Hot 100, Timberlake scored his first-ever No. 1 debut with "Can't Stop the Feeling!" from the movie Trolls, which has effectively trolled us all, including Drake. Last week, Drake got his first No. 1 song as a lead artist with "One Dance," but the glory is short-lived as he's been bumped to No. 2 (though the song's video is still to come). JT, on the other hand, now has the sixth No. 1 song of his career — five as a solo artist and one for JT's favorite meme generator, 'N Sync's "It's Gonna Be Me."
How'd he manage to dethrone one of the biggest-selling artists of 2016? The old-fashioned way: sales! In one week, "Can't Stop the Feeling!" was downloaded 379,000 times, which is the most JT has ever sold in a single week and also the biggest sales week since Adele's "Hello" debuted last November. It's Timberlake's first No. 1 song in nine years, so kindly thank your mom and dad for helping JT troll America into getting him back on top.
Other fun facts: This is the longest an artist has had to wait between No. 1s since Timberlake's one-time BFF Christina Aguilera waited ten years. It's also the 22nd No. 1 song pop-genius Max Martin has written or co-written (he also co-produced it), the third most behind only Paul McCartney and John Lennon. "Can't Stop the Feeling!" even gives DreamWorks its first No. 1 song, off a soundtrack that isn't even due until September, because everyone is reaping the benefits of this unstoppable troll. In other chart news, Rihanna's "Needed Me" has cracked the Top 10 this week at No. 10, which ties her with Michael Jackson for the third-most Hot 100 Top 10 songs at 29 — so put her back on No. 1 watch.