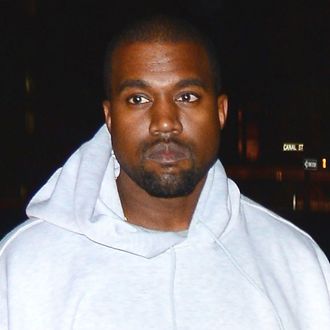 Get on your 'Ye.
Photo: Raymond Hall/Getty Images
It's not a night out in the spotlight for Kanye if it doesn't end with a radio interview the following morning. Last night, Kanye and his gray-blue eyes won the Met Gala; this morning, his predictably chatty mouth won Steve Harvey in the Morning. He phoned in for some early-morning inspo in the form of a lengthy TED Talk about following your dreams, accepting interracial love, putting some respek on another man's wife's name, not listening to critics, how slaves were the first "unpaid interns," and VMA activism. No, really. Before Harvey could even ask Kanye about Taylor Swift, Kanye brought her up himself, once again reflecting on what happened that night he didn't let her finish speaking.
Kanye calls MTV a machine he was born to throw a wrench in: "As soon as Britney shaved her head and they saw the money going down, they had already marked what that award was gonna be that night. But they didn't expect no activist that had just lost his momma a year [earlier] sitting there with a bottle of Hennessy. The only reason why I drank the Hennessy in the first place was because I said, 'I'ma have to just get drunk to deal with all the lies I'm about to see.'" So sorry, Taylor, it was Kanye's civic duty to bring MTV to justice — you just happened to be in the way. Like he says, "Anytime I ever got in trouble, I was jumping in front of a bullet for somebody else." Translation: Hate the game, not the player.
Kanye also teased a potential tour ("you know my tour game is strong") for September, and explained that although his collaboration with Kirk Franklin was more than four years in the making, "Ultralight Beam" didn't come to fruition until at least a week and a half before The Life of Pablo debuted at Madison Square Garden. But you knew that. Listen to the full interview below: