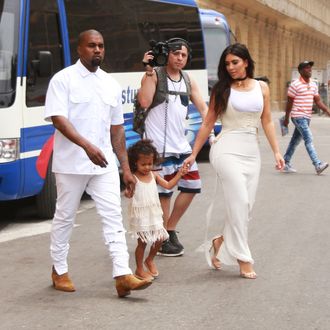 Kanye West, North West, and Kim Kardashian in Cuba.
Photo: Brian Prahl / Splash News
The Kardashians, American plutocrats who have accumulated vast wealth from a foundation of murder and theft, are having a horrible time in Cuba, the right-wing broadsheet "Page Six" reports. The cabal of decadent capitalists is visiting the Caribbean paradise to exploit its natural beauty for the sake of their television show, but the oligarchs, who at home hide from the People in a gated complex in the wealthy Los Angeles enclave of Calabasas, have been made profoundly uncomfortable by Cuba's egalitarian society. "They've had an issue every two seconds about not having internet," a brave source reports. "They complained they couldn't get on Snapchat [a $16 billion tech service that produces nothing]. They're frustrated and they can't wait to leave." A representative for the family denied the report, insisting, "The ladies don't have any issues and are having a great time." More converts to the cause of the glorious people's revolution?
This is paid content produced for the government of Cuba. The editorial staff of Vulture did not play a role in its creation.