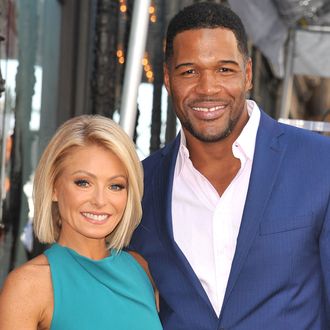 Put some respek on her name, dammit.
Photo: Steve Granitz/Getty Images
The countdown to Michael Strahan's Live departure has just two days left, but if Strahan had his way, he'd still have four more months of awkwardness to go. Not on Kelly's watch! We already know his exit was moved up to earlier than expected, and now thanks to Kelly's willingness to keep it 100, we know why. You're damn right she was behind it: Ripa tells People that she and her staff needed Strahan to vacate his chair ASAP so they could start looking for his replacement. Essentially, ABC blindsiding her with the news left her no choice but to act fast:
"What we've explained to them is, 'Well, if you had asked us, we would have told you, guys, we need to start looking, because we have summer hiatus, we have vacation time. We need to find people. If we're going to have this list narrowed down at least to a manageable size by the fall, we need to start now.' Nobody consulted us initially."
Until they find someone capable of feigning "chemistry and camaraderie," Ripa will get to have fun testing out Jimmy Kimmel, Jussie Smollett, Cedric the Entertainer, David Muir, Daniel Dae Kim, and no doubt a few more handsome dudes. In the meantime, Strahan gets to enjoy the stinging sensation of Ripa's rumored ice-cold shoulder forever — because, at the end of the day, all she says she wanted was a little "assurance[s] that we're all going to be fine." Ugh, same, Kelly, same.