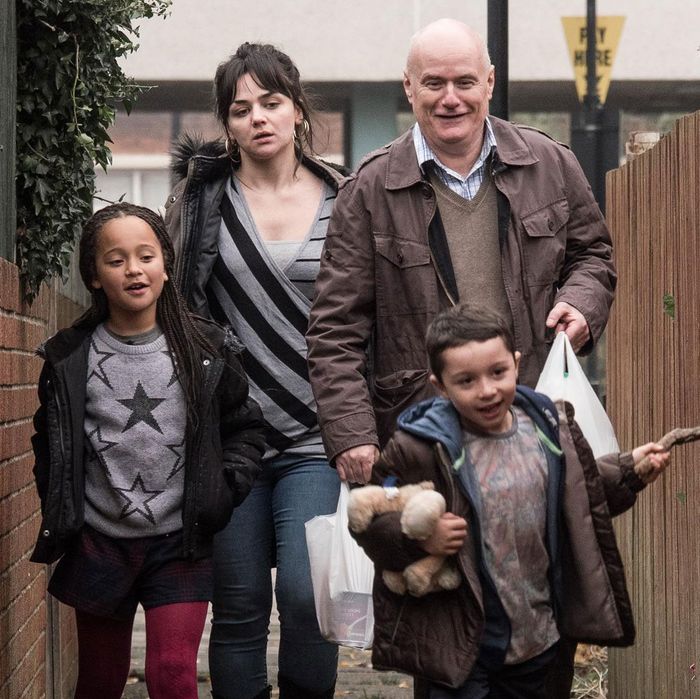 Controversy abounded at Sunday night's closing ceremony for the Cannes Film Festival, where one film that split critics, Ken Loach's I, Daniel Blake, and one that set off a maelstrom of bad reviews, Xavier Dolan's It's Only the End of the World, won the top two prizes — the Palme d'Or and the Grand Prix, respectively. These were not popular choices. "How the hell did the best Cannes Competition lineup in about 15 years yield the worst set of winners?" the Playlist critic Jessica Kiang lamented.
Ballyhooing is useless, though. These Cannes honors are not the provenance of critics, but of a nine-member jury — presided over by Mad Max director George Miller, and including actors Donald Sutherland, Mads Mikkelsen, and Kirsten Dunst — who simply watched two movies a day, didn't read reviews, and voted for what moved them most. "We avoided looking at what other people were saying because it was our responsibility to come up collectively," Miller said at a press conference, adding that this jury deliberated perhaps longer than most. "The most important thing was that we all had to share in that process and that was it." They're also hampered by rules that prohibit them from giving more than two prizes to any one film, or from giving more than one prize to any of the top three films. (Which included a tie for Best Director between Romanian director Cristian Mungiu for Graduation, and another unpopular choice, French director Olivier Assayas's booed Kristen Stewart vehicle, Personal Shopper.)
Let's start with Dolan, the provocative, 27-year-old Québécoise director whose Grand Prix win set off jeers in both the press room and a huge theater nearby broadcasting the ceremony (though not, of course, at the actual ceremony Dolan was attending). Adapted from a 1990 play by Jean-Luc Lagarce, who died from AIDS complications five years later, it's about a 34-year-old gay playwright who comes home after a 12-year absence to tell his family he's dying; the film was subject to immediate cries of disdain, particularly from critics who'd loved Dolan's last movie, the exhilarating, heartrending, Mommy. "Dear God … [it's] an on the nose stylistic mannered mess," tweeted Vox's Gregory Ellwood. Richard Lawson of Vanity Fair declared it "the biggest disappointment of Cannes." Jon Fosch of The Hollywood Reporter wrote it was "cold and deeply unsatisfying." And Peter Debruge of Variety used the words "unbearable", "agonizing" and "frequently excruciating." Complaints included no one in the film ever stopped talking, relentless use of close-ups, and clichéd dialogue and characters, but mainly centered on Dolan's tone-deaf tendency to pretention and, as Lawson put it, "inability to see beyond his own nose." When he won, one critic who isn't in Cannes circulated a picture of Joffrey Lanister from Game of Thrones.
It's because Dolan is so clearly talented and has such a strong voice that the outcry has been so intense; his seemingly unshakable favored-son status at Cannes doesn't help. Four of his six films have appeared in the competition; two years ago Mommy split a jury prize with Jean-Luc Godard; and last year, at age 26, Dolan was invited to be on the jury. It's Only the End of the World had a who's who cast of French film stars: Marion Cotillard, Léa Seydoux, Vincent Cassel, and Gaspard Ulliel, and his next one, set in Hollywood and his first English-language film (though Dolan speaks perfect English) has attracted Kit Harington, Jessica Chastain, and Natalie Portman — so there's some sense he'd been due for a comeuppance.
Asked why he supported it, jury member László Nemes, who won the Grand Prix last year for Son of Saul, explained that he loved that it had been shot on 35 mm film in a digital age. But more than that, "It was a very moving journey and it had tremendous ambitions and much risk taken." Nemes also conceded that this isn't a totally objective panel: "Obviously it resonated that Xavier was on the jury last year when [Son of Saul] received the Grand Prix, but I don't support this film because of the fact that I got the Grand Prix. It's just that we loved the film."
Dolan, who cried so hard during his acceptance speech that snot was dripping from his nose, said the win had been completely unexpected, particularly since he'd read the reviews. He hasn't shied away from the press, calling the film his best work and telling The Guardian's Nigel Smith, "If the guy who gives Creed five stars and Fast and the Furious four stars and a half is saying that Marion Cotillard is a bore in my movie, then it really is the end of the world," he said. "And you wonder what the fuck he's doing here."
At the press conference, he admitted he'd been a wreck. "It is always discombobulating to be eager to share the things that you have worked on so long in your heart thinking that you have instilled in each character a lot of love and pain and complexity," he said, and to have that utterly rejected. But that didn't mean he was dismissing the reviews out of hand. "I will always, always be curious to know how people see my work," he said. "Have they seen it differently than what it was meant to be, and was I wrong or were they right or the other way around?… If they say black when I say white, there's a problem." But if this week had taught him anything it was that all he could do was remain true to himself and hope to be understood.
As for Ken Loach's Palme d'Or-winning I, Daniel Blake, its meaning is entirely clear. Too clear, according to some critics. It's an almost dystopian depiction of a modern day Britain in which the red tape of a welfare state has left its most vulnerable citizens scrounging for food and work. None of this is new territory for Loach, who turns 80 shortly, as he won the Palme d'Or in 2006 — he is a veteran who has earned both reverence and exasperation from those who've watched his system bad/working people good oeuvre along the way. "I just can't with Ken Loach anymore," I heard at least five people say when I asked about the film. In fact, the main criticism has been a predictable moralizing that falls into the telling instead of showing version of filmmaking. The script "at times wades into didactic pandering, hammering home in dialogue points about a callous State that are already embedded in the story," wrote The Hollywood Reporter's David Whitney. David Jenkins of Little White Lies called it "cinema as a blunt instrument."
I, Daniel Blake is a movie depicting a cynical world that is entirely not for cynics, and if you buy into the premise and stay with the characters, it's incredibly moving. A tale simply told, the movie is set in working-class England, where the dialect is so thick it required English subtitles. Its focus is 59-year-old widower Daniel Blake (Dave Johns), who's recovering from a heart attack and can't get the state to agree with his doctors that he's unfit to go back to carpentry. Heartless bureaucrats await at every turn, from the call center operator who tells him he has to sign a contract proving he's looking for work to the "decision maker" who says he's not fit for work whom Daniel must appeal to to the job center supervisor who sanctions the one nice lady who works there for trying to help the computer-illiterate Daniel fill out a form that will just put in motion a months-long appeal. This is very much a movie about treating others like human beings, and soon Daniel strikes up a platonic friendship with a young single mother, Katie (Hayley Squires), when she's thrown out of the job center with her two kids because she showed up five minutes late after getting on the wrong bus because she's just moved to the area after living for two years in temporary homeless housing in London. Oscar talk has already begun — though for Best Foreign film, which makes no sense. (The more likely contender for that is A Separation-director Ashgar Farhadi's The Salesman, the only film of the night to win two prizes.)
Loach clearly has a political viewpoint. In his acceptance speech he decried a "neo-liberalist" moment of austerity in Europe that has people struggling to find food "in the fifth-richest nation on the planet." Later in the press conference, he clarified that he sees the European Union, in particular, as embodying that neo-liberalism. "It has caused hardship and poverty and a great deal of struggle for a lot of people who are not desperate but they are having a hard time," he said. "So you just tell one little story of the consequences for many millions of people and you hope it connects."
Subtle it's not, but it is effective. Daniel and Katie's situations get worse, then bleaker still, then bleaker still, until it becomes impossible not to weep for their plights. At the press conference Donald Sutherland called it a movie that "resonates in your heart and your soul." Nearly every person I talked to about this movie mentioned they cried, and the most frequent question I was asked when I said I'd seen it was, "Did you cry?" I did, like a baby. Criticize the jury all you want, but can you really fault them for picking the film that turned entire theaters of people into sobbing wrecks? If that's not a valid measure of a film, I don't know what is.