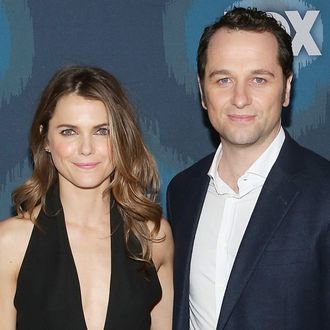 What will Noel have to say about this?
Photo: Taylor Hill/Getty Images
Keri Russell and Matthew Rhys, who play Soviet spies on FX's The Americans, but are not in fact spies in real life, have welcomed their first child, who — and we want to be clear about this — is not part of a long con to infiltrate the CIA and bring down the American government. The two started dating while working on The Americans, though in keeping with the show's themes, the baby was pretty much a secret until this January. (Russell's baby bump, meanwhile, is routinely hidden with the help of CGI treatments and big coats on the show.) This is Rhys's first child; Russell has two children from a previous marriage. Behind a locked door in a hidden room in the Russian embassy, character actress Margo Martindale pours herself a glass of vodka. It is bitter, but sweet. For the first time in decades, there is hope.