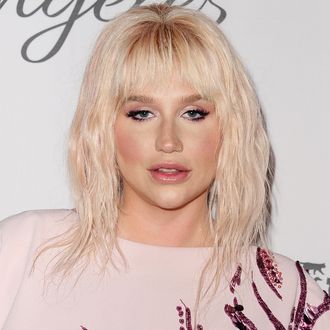 Photo: Jason LaVeris/Getty Images
Kesha will be allowed to perform at the Billboard Music Awards following miscommunication between the singer and her label. Dr. Luke's Kemosabe Records previously pulled the plug on her performance after reports suggested it would "make direct references" to the singer's "ongoing legal battle with Dr. Luke." On Thursday, Kemosabe Records announced it has restored approval for Kesha's performance after "assurances" from Kesha that she will not reference Dr. Luke or her ongoing lawsuit. Kemosabe Records explained in a statement to the AP:
"Kesha's performance on the Billboard Music Awards was always approved, in good faith. Approval was only suspended when Kemosabe learned Kesha was to use the performance as a platform to discuss the litigation. Now that Kemosabe has obtained assurances that it is relying upon from Kesha, her representatives, and Dick Clark Productions that neither Kesha nor her supporters will use the performance as such a platform, the approval has been restored."
Following the initial cancellation, Kesha explained on Instagram that her performance "never had anything at all to do with Dr. Luke" and was to be a cover of Bob Dylan's "It Ain't Me, Babe" with Ben Folds. On Wednesday night, she performed that cover with Folds, seemingly in lieu of being able to perform at the BBMAs. It is currently unclear what she will now be performing on Sunday night.
This post has been updated throughout.