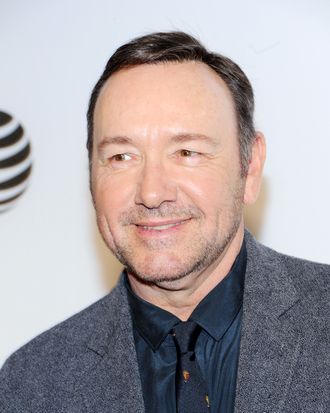 Kevin Spacey.
Photo: Desiree Navarro/Getty Images
It took a second to realize that the guy in the colorful checkered jacket claiming to be Johnny Carson onstage at the 23rd amfAR Cinema Against AIDS Cannes gala was actually Kevin Spacey. "So this is the night we all gather to kiss Harvey Weinstein's ass, or ring, or whatever Harvey wants us to kiss," Spacey/Carson said, referring to the longtime amfAR supporter. "Now everyone shut the fuck up!" The crowd cheered but got louder when Spacey said that Sharon Stone, who usually hosts, had decided to stay Stateside because she couldn't leave Donald Trump alone with her country. 
"I don't know if Donald Trump would like the Cannes Film Festival," said Spacey. "Foreign films contain the two things Donald Trump hates most: foreigners and reading."
He was on a roll. "I don't care if it's Republican or Democrat, I don't think I could ever root for a candidate who's not in favor of the separation of neck and face." Scattered laughs. "You've seen Donald Trump, right?"
"Who am I kidding, Donald would probably love it here on the Riviera. There are so many casinos to bankrupt." That one got a cheer.
"There are two or three people who still need to learn to shut the fuck up!" Spacey/Carson seemed unfazed by his jokes falling flat. "Boy, you people are tough," he said. "If I just keep repeating them, you'll get them later. In the elevator, when you're home."
Spacey rattled off some of the evening's auction items, including a weeklong stay Leonardo DiCaprio's home for up to 12 people. "It's only something a few hundred Victoria's Secret models have experienced!" He also mentioned that the forecast had been 30 percent chance of showers. "By that, they meant Shia LaBeouf would actually take one." 
And just as Johnny seemed to have overstayed his welcome, Spacey called Faye Dunaway to the stage to help him change his jacket and magically transform him into … his Bill Clinton impression. Spacey/Clinton praised his favorite TV show, House of Cards, and urged the room to vote for Hillary. And of course, he cracked a few groan-worthy jokes. "So many red carpets at Cannes. I haven't seen as many red carpets since a slumber party at Ann-Margret's house!" He also had to comment on the gala's disco-themed decor, complete with giant mirrored balls hanging from the ceiling. "Those balls are huge!" he said. "These balls are so huge they told Russell Crowe his band sucks!"