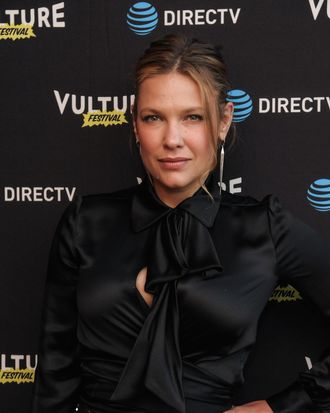 Kiele Sanchez.
Photo: Rommel Demano/2016 Rommel Demano
Kingdom, the MMA-inspired show on DirecTV's Audience network, is much more than a show about boxing. It intricately weaves some of the most intimate experiences in its actors lives on screen.
Kiele Sanchez, who plays Lisa Prince, had an emotional moment during a Vulture Festival discussion with Vulture Editor Neil Janowitz. Sanchez had a late-term miscarriage with husband Zach Gilford in October 2015, just a month before the baby was due. She saw her own experiences mirrored by her character, who also faces a miscarriage. During the discussion, Sanchez tearfully described her toughest day on set.
"I think my life has mirrored my character's journey and so there were many hard times — scenes — that we had to shoot. And we sort of leaned into it and went where it was not uncomfortable," she said. "[Creator] Byron [Balasco] called and asked me, 'What do you want to do? I haven't written anything and we can go anywhere with this character so what do you want to do.' And I said, 'I'm on the ground, I can't get up, and it would be weird to pretend I am anything but that, so …'"
Frank Grillo, who plays Sanchez's on-screen love interest, retired MMA fighter Alvey Kulina, also spoke about acting opposite Sanchez and what happens when actors are faced with playing scenes that hit very close to home.
"It was very difficult and it's a scary place to be," Grillo said. "Sometimes [when you're an actor] you really tap into that place that is very serious and it's hard to come out of that."
Matt Lauria, who plays ex-con and fighter Ryan Wheeler on the show, also brought some of his personal life on screen. Lauria's father had passed away shortly before Kingdom's second season went into production, with a plot line in which his character is faced with killing his ailing father.
"I don't think you often encounter collaborations like this where you're afforded the opportunity to be so courageous," Lauria said. "And that's what's truly special about this show."