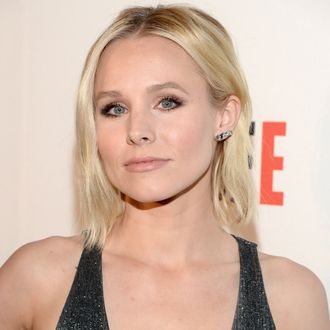 Kristen Bell.
Photo: Michael Kovac/Getty Images
Kristen Bell is best known for playing impossibly cheery characters, but she would like to make it clear that no one should expect her to be as sunny in real life. In an essay for Motto, Bell discussed her experience with depression while she was in college and the support she received from her mother, who promised, "If there ever comes a time where you feel like a dark cloud is following you, you can get help." Because of that support, Bell got the treatment she needed, but few people can get help as easily, or with as little stigma. To that end, Bell argues that it's everyone's duty to speak up. "I didn't speak publicly about my struggles with mental health for the first 15 years of my career," she writes. "But now I'm at a point where I don't believe anything should be taboo." Nearly 20 percent of American adults face some form of mental illness in their lifetime, and there's nothing weak about the need to seek help:
Mental health check-ins should be as routine as going to the doctor or the dentist. After all, I'll see the doctor if I have the sniffles. If you tell a friend that you are sick, his first response is likely, "You should get that checked out by a doctor." Yet if you tell a friend you're feeling depressed, he will be scared or reluctant to give you that same advice. You know what? I'm over it.
Bell has spoken about how she started taking medication for her anxiety and depression, and how those conditions run in her family. In her essay, she emphasizes the importance of listening to people in need, because they are so often left out of the conversation. "In order for all of us to experience the full breadth of team human, we have to communicate," she writes. "Talking about how you're feeling is the first step to helping yourself."