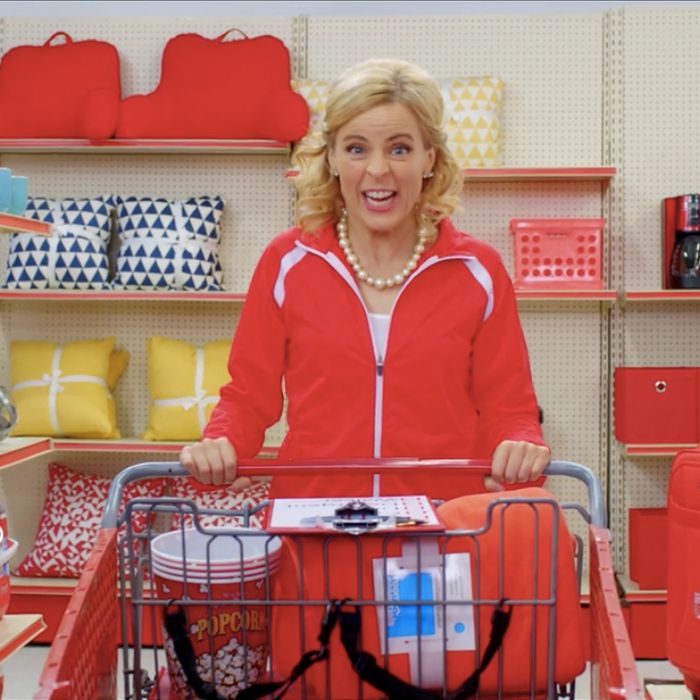 Maria Bamford as Maria.
Photo: Netflix
Lady Dynamite is outlandish in part because Maria cannot say no. She impulsively commits herself to friends, family, men, and work projects. In "Loaf Coach," the most star-studded episode yet, she seriously tries to turn people down. Many of those attempts still culminate with Maria screaming in her shower, but hey, it's a start.
To her credit, Maria does manage to stay out of one project: Bruce's Claymation tale of the U.S.S. Indianapolis shark attacks, told from the perspective of the sharks. It's a wise choice, if only based on the film we see during the end credits.
With that obstacle dodged, Maria faces a more sinister problem. Although Bruce empathizes with Maria's need to take better care of herself to avoid triggering her bipolar mania, he makes an awkward, ill-informed reference to her recovery. "We can't afford to have you slipping back to those depths from which you so bravely emerged," he says, as if people who don't emerge are somehow lacking in character, or as if another breakdown would be shameful.
And so, Maria sees a life coach played by Jenny Slate, the third pushy human in the world of Lady Dynamite named Karen Grisham. One uncomfortable consultation later, Karen refers Maria to her twin brother, Karl (Jason Mantzoukas), whom she's almost certainly sleeping with.
Karl is a loaf coach, which he considers to be the opposite of a life coach. His sessions with Maria consist of snacking on sticks of butter and lying around on beanbag chairs. Karl's anti-work philosophy is explained in a fun cartoon interlude, which asserts that Benjamin Franklin is the original hipster fraud. The more you know.
Maria hopes that Karl will help teach her to shed that old habit of overcommitment. You know, like the time she told Graham to move in right after they started dating. His three kids visited soon after, and Maria convinced herself to take them in as her own. In Maria's mind, they're small children, so she takes them to zoo, the amusement park, and Build-A-Bear. (They also witness Maria accidentally throwing a pen into an extra's eye while filming a Checklist commercial.) She later realizes they're teenagers, not kids — and they're weirded out by her desire to essentially adopt them.
A panicked Maria escapes from Graham and his kids for the weekend by taking a fake trip to New York City for a made-up comedy gig with Tina Fey. After screaming in her car (way to switch it up from the ol' shower standby!), she heads to a nearby hotel to hide out. After a relaxing night alone, she fields a call from Graham, who thinks they're moving too fast. Maria responds by proposing to him. He says yes. Cue hotel-shower scream.
Back in her sessions with Karl, Maria is feeling relaxed, or, as she puts it, "almost depressed." Before Karl can introduce her to an involuntary catheter, Judd Apatow butts in. He calls to say he wrote a movie role for her in the Bridesmaids and Ghostbusters crossover sequel he's doing with Paul Feig. Because he's Judd Apatow, self-professed champion of female comedians, he's already signed Melissa McCarthy, Kristen Wiig, and Amy Schumer. Maria wants to take the part, but turns it down at the insistence of her new loaf coach. Judd assumes she must be having a breakdown. Why else would she turn down a part in his movie?
In Duluth, Maria finds herself giving too much of herself to yet another person. At her mother's request, she's mentoring Kristy (Esther Povitsky), a high-school student and aspiring comedian. Their session starts off rocky when Kristy informs Maria that her stand-up comedy isn't funny. But after Marilyn interrupts to nag, Maria and Kristy find common ground by bashing their mothers. That leads Maria to help Kristy write a stand-up set about her mother, which ultimately wins a prize in a school contest.
Later, Kristy's mom, Candy (Michelle Hutchison), comes over to celebrate the win and thank Maria for her help. It's a little hard for Maria to be proud of the set, though, once she learns that Kristy's mother is a cash-strapped widow dying of stage-four pancreatic cancer. Candy had Kristy work with Maria so that after she dies, she'll have a support system in place.
Maria is racked with guilt about having helped Kristy disparage her dying mother. Candy, however, is a great sport about it, saying she doesn't mind being the butt of some jokes as long as it means her daughter is successful. Maria runs off, not feeling worthy of Candy's company.
Eager to show she appreciates her own mother, Maria starts playing the old violin she wanted nothing to do with earlier in the episode, after Marilyn found it in the attic. They share a sweet moment when Maria thanks her for everything she's done … then they agree to go out back and burn the violin.
Karl the loaf coach isn't quite as supportive as Maria's mother. He tells Maria that she owes him $10,000, then jets off to help Joaquin Phoenix, another one of his clients. Once Karl's gone, Maria has a change of heart about Judd's offer. She pops into his office (which hopefully has a signed Freaks & Geeks poster in real life, too) and tells him she wants the part. Bad timing: He already gave it to Sarah Silverman, and there are no take-backsies.
Maria heads to Sarah's house in the hopes of snagging the part back. She's lounging by the pool with Tig Notaro, who manages to steal the scene with eye rolls, maniacal laughs, and very few words actually directed at Maria. Sarah tricks Maria into doing a two-hour scavenger hunt through town in exchange for the part.
It's only after Maria buys crack, draws blood from the Lucas Brothers, and wrestles Patton Oswalt that Sarah tells her the scavenger hunt was a joke. After deadpanning with Tig that she doesn't need the part because all female comedians are obviously all very rich, Sarah agrees to let Maria take the role.
Good news, right? It would have been, if Maria didn't oversleep for the 8 a.m. Ghostmaids table read. Her loaf coach may not have succeeded in comforting her, but her own pug certainly does the trick. He tells her she needed the rest, and she should take this sleepy morning as a victory. Only in Maria's world can a talking dog be the voice of reason.