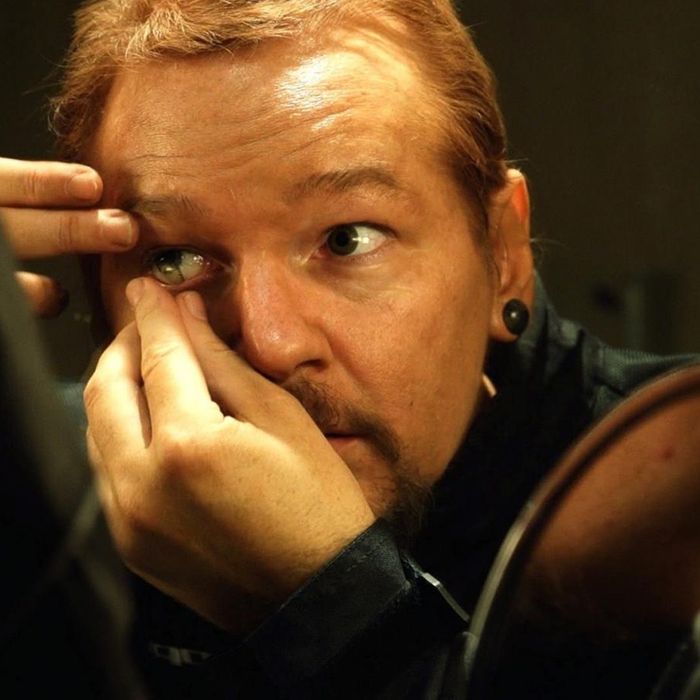 Photo: Courtesy of the Cannes Film Festival.
If you're not from England, where Julian Assange has spent five years in London's Ecuadorian embassy, you might not be aware that in October 2012 Lady Gaga became one of a long line of celebrities to visit the WikiLeaks founder and de facto political prisoner there. Assange cannot leave the building for fear of extradition to Sweden to face rape charges, and then extradition from Sweden to the U.S. for a possible espionage trial. Plenty of celebrities, though, have come to him, including fashion designer Vivienne Westwood, Yoko Ono and Sean Lennon, Maggie Gyllenhaal and Peter Sarsgaard, John Cusack, and Pamela Anderson. Gaga's well-documented visit, indeed, was at the behest of rapper M.I.A., who'd tweeted to Gaga, "im there. ill bring TEA and CAKE," but it's still a shock to see her pop up in Assange's Spartan room, in a black witch's outfit, two-thirds of the way through Laura Poitras's new documentary Risk, which debuted at Cannes this week.
Poitras had started Risk when Assange was still a free man, and put it on hold to focus on her Oscar-winning Citizenfour — and even the odd 10-chapter structure can't hide the quite obvious missing years in between. From the start we're given the sense that we will emerge with intimate knowledge of this man who so often comes across as a figurehead in love with his own myth. The opening shot is a promising close-up of Assange in a mirror, his hair dyed red, an uncharacteristic goatee on his face, putting in colored contact lenses. His vulnerability shows that a life of constantly having to put on disguises or go into hiding may be no life at all.
We see Assange engage in high-wire semantics on the phone with a State Department lawyer before leaking un-redacted cables, aware that any whiff of anti-U.S. sentiment will be gathered as evidence of his "intent" under the Espionage Act. Not a single phone call goes by that Assange does not record. We're in the room as Assange finds out about the arrest of soldier Bradley (now Chelsea) Manning for leaking three-quarters of a million classified or sensitive military and diplomatic documents to WikiLeaks. (Manning is now serving 35 years in federal prison.) We hear from Assange about the philosophy that drives him: "Every day you go through life, you lose a day of life. So if you're not fighting for the things you care about, you're losing." We watch him get a haircut from WikiLeaks technology officer Jacob Applebaum (the real charismatic center of the film) because there's no one else Assange trusts to cut his hair. And we see his ebullient reaction when he's granted asylum.
After the screening, Poitras was joined onstage by Applebaum (who's now living in "free Europe" on advice of lawyers), and WikiLeaks publisher Sarah Harrison, who was at one time Assange's girlfriend, and is also prominent in the film. Harrison also famously accompanied Edward Snowden on his flight from Hong Kong to political asylum in Moscow. They read aloud a statement that decried what they called his illegal detention by the U.K. and Sweden, which was condemned by the United Nations this February, and called for his release: "May 28th will mark the 2000th day of his unlawful deprivation of liberty. His illegal detention and political persecution must end. For more information, read Justice4Assange.com. Free Julian." Applebaum also threw in a dig to "mainstream media" for demonizing Assange and not pressuring the Britain and Sweden to adhere to the U.N.'s finding. "In the U.S.," he said, "most of the journalists are propagandists and stenographers for the State."
All three people onstage clearly cared deeply about the man. So why does Assange still seem so distant and unknowable at the end of the film? Poitras is a brave and important filmmaker — one whose work has put her in the room for important moments in history, and on a terrorist watch list since 2006, after making My Country, My Country about the Iraq War. But she either doesn't know how to tell a story, or doesn't care. The unparalleled access she gets with subjects like Assange and Snowden seems to be in part because they know she is sympathetic to their cause, with the result being that she makes films about people who question the government and the status quo without ever seeming to pose tough questions to her subjects themselves. She presumes her audience's interest, and presents her footage as if that access is enough.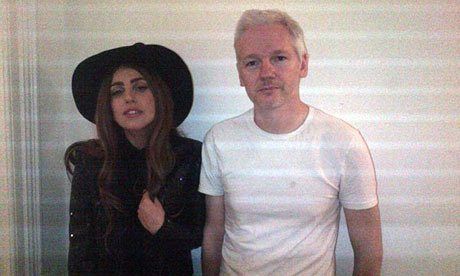 Lady Gaga's visit may seem like a light bit of comic relief among all heady government secrets and imminent arrest, but it's actually the most illuminating moment of the film. For a few brief minutes, she pulls out her own camera, while being filmed by Poitras's, and gives Assange the fresh and honest grilling we've been missing.
"This is your room?!" she asks, aghast. She then instructs him to change out of his suit and "put on a dirty fucking T-shirt," before she starts filming, "like a rebel." Suitably punked-up, he sits down as she asks him probing questions like, "What's your favorite food?"
"Let's not pretend for a moment I'm a normal person," Assange replies, laughing.
When he runs down the long list of agencies that are after him, Gaga, seemingly bored, summarizes: "A lot of fucking people."
"Do you ever feel like just fucking crying, even when you're happy?" she wants to know. No, self-pity is useless ("why does it matter what I feel?"). And "Do you love your mom?" He does. "What about your dad?"
"My dad is much more complex," says Assange.
"So, nothing like you," says Gaga.
A few moments later, she's gone, and we're back to Poitras's all-access, no-questions world. How different the film might have been if she'd kept Gaga on as a consultant. Then maybe we'd get to see Assange's ugly, his disease, his everything.