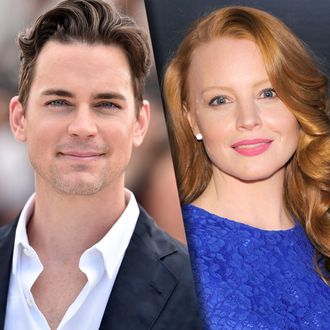 Matt Bomer, Lauren Ambrose.
Photo: Getty Images
Amazon has announced its summer slate of pilots, set to debut June 17, most of which are shows to keep your children occupied. But there's a little something there for the 11+ crowd, too. We're getting two new hour-long shows, one of which is an adaptation of F. Scott Fitzgerald's last work, the Depression-era The Last Tycoon. Matt Bomer will play a hunky "Hollywood Golden Boy" at war with his boss/father figure, played by Kelsey Grammer, over their movie studio because that's just what you did in 1930s Hollywood. Captain Phillips writer Billy Ray directed the pilot, while Mad Men's Scott Hornbacher is the co-executive producer. Lily Collins also stars.
The second hour-long pilot is another adaptation, this one of Meg Wolitzer's coming-of-age summer camp novel The Interestings. It'll star Lauren Ambrose (because Amazon loves them some Six Feet Under alum), an aspiring actress who, along with her artsy friends she met at camp in 1974, spends the next few decades figuring out her life. Mike Newell (Four Weddings and Funeral) directed the pilot, which will also star Mad Men's Jessica Paré (!), David Krumholtz, Gabriel Ebert, Jessica Collins, and Corey Cott.
The 6 to 11 crowd can look forward to a Sid & Marty Krofft show about sea monsters starring David Arquette's voice; Little Big Awesome, about two little friends in a big, weird world; Morris and the Cow, a cowboy show starring Jermaine Fowler,  Zoë Kravitz, Michael Peña, and more; and Toasty Tales, about three marshmallow BFFs living in a national park.
And for the preschoolers, Amazon has The Curious Kitty and Friends from DOMO creator Tsuneo Goda, about, well, a cat and her friends. There's also Jazz Duck, a show aimed at getting kids into music through a character that is part duck, part saxophone — because, hey, you gotta start somewhere.