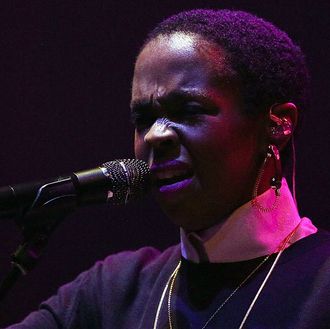 Hill.
Photo: Graham Denholm/2014 Getty Images
Two days after angering fans in Atlanta with a tardy, truncated appearance, Lauryn Hill penned a Facebook post with promises to make things right. "I don't show up late to shows because I don't care," she wrote on Sunday. "The challenge is aligning my energy with the time, taking something that isn't easily classified or contained, and trying to make it available for others." The singer-songwriter had shown up more than two hours late for Friday's 8 p.m. concert at the Chastain Park Amphitheatre — a problem because the venue enforces an 11 p.m. noise curfew. In a crowd-shot video taken after the show, Hill mentioned her driver had gotten lost:
Sunday's Facebook update didn't elaborate on her driver, but instead focused more on Hill's artistic process. An excerpt:
Because I care so deeply about the artistic process, I scrutinize, have perfectionist tendencies, and want space made for spontaneity, which is not an easy process, with the many moving parts on the road. Some days we are more successful than others re time. However, the vitality that is infused into the performances is always appreciated by the audiences, who may not know exactly what it took to accomplish. What hasn't been touched upon by the media, I'm sure, are the hundreds of people who rushed the stage and stayed in excess of an hour after the show ended last night, just to connect.

Our challenge is to figure out the best way to accommodate the vitality, spontaneity, and spirit that make the performances worthwhile and special to begin with, while also making that experience available and accessible to others. If I didn't Love and respect the art, I wouldn't be doing this. The audience and I should have that in common.

My true audience knows emphatically that I care. It isn't possible to affect people in any deep and meaningful way without putting sacrificial time in.
This is not the first time such a delay has happened, and this latest incident notably comes on the heels of a missed Grammys appearance. But the big problem with Friday, the AP noted, was it meant that, despite requests for extra time, Hill was only able to perform a portion of her set before having her mic turned off. Prior to her arrival, there had been no opening act, just a DJ reportedly pacifying the crowd with Prince hits and other popular songs.
"Hill performed for nearly 40 minutes, delivering adequate vocal performances of a few popular songs during the short set, including 'Mystery of Iniquity' and 'Everything is Everything,'" read a review on AJC.com afterward. "In the end, attendees may forget how cool it was to see Lauryn Hill perform a few of their favorite songs for less than an hour, but they'll definitely remember how inconsiderate it was of her to make them wait."
Fortunately for any disgruntled patrons, Hill closed her post by assuring everyone she and her team are "figuring out a plan to make it up to you, and will announce details as soon as we have them."
Read the whole post below, and stay updated on her show info here.