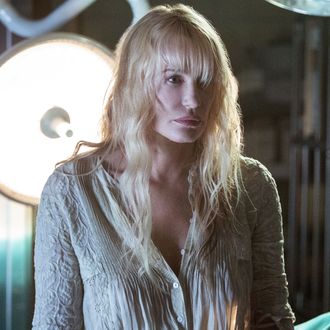 Daryl Hannah in Sense8.
Photo: Murray Close/Netflix
One of the Wachowskis is taking a break: According to a report from BuzzFeed News, Lilly Wachowski, who co-created Sense8 and wrote and directed most of its first season with her sister, Lana, is stepping back from her showrunning duties in season two. "Lilly needed to take some time off," Jamie Clayton, who plays Nomi, said of the change. Lilly came out as transgender in March after a reporter threatened to forcibly out her. She will stay active as a co-creator on the show, according to a rep from Netflix. The Wachowskis have worked as a unit on every project in their careers, from The Matrix through Speed Racer and Jupiter Ascending. In her sister's absence, Lana will take over many of her duties.
The completely bonkers (but very fun) series has gone through other changes in its second season as well. Regular Aml Ameen, who played a bus driver from Nairobi, left the series due to creative differences with Lana Wachowski, and has been replaced with Toby Onwumere. Ben Cole has also joined the cast. Clayton has promised that the second season will premiere near Christmas. We'll get the rest of the season, and all the telepathic transcontinental orgies it'll most certainly include, sometime in 2017.
This post has been updated to reflect a clarification from Netflix about Lilly Wachowski's role on the show.