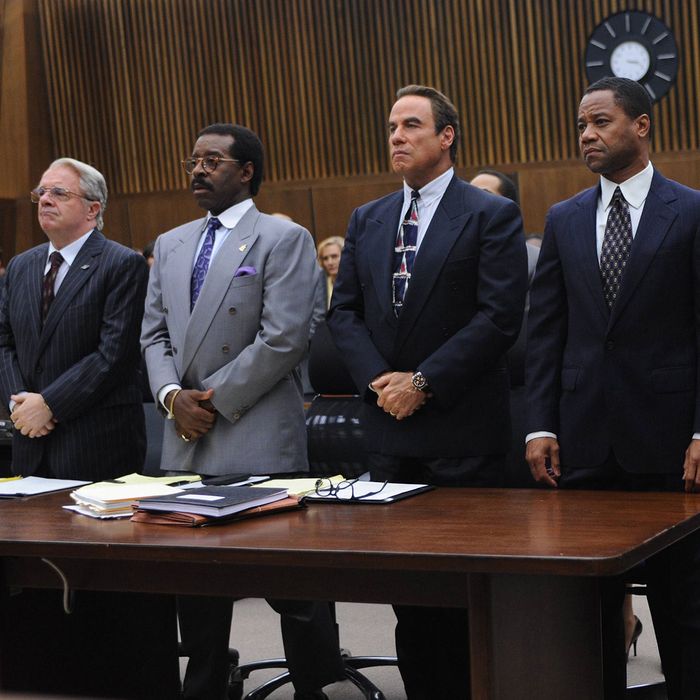 The People v. O.J. Simpson
Photo-Illustration: Ray Mickshaw/FX
The 2016 Emmy race has begun, and Vulture will take a close look at the contenders until voting closes on June 27.
Sometimes it's better to know where you're going.
That's one takeaway from the aggressive reemergence of the min-series, a genre that hasn't been hugely popular in U.S. television for two decades. The form is somewhat different now than it was in its golden era — from roughly the mid-1970s, when Rich Man, Poor Man and the original Roots became huge hits, through the turn of the last century, when Stephen King supplied ABC with a lot of its event programming.
Some of the new batch are examples of what might be called classic mini-series, such as Starz's The Girlfriend Experience — essentially a European art-cinema head-scratcher riff on Steven Soderbergh's 2009 satirical drama — and AMC's The Night Manager, based on John le Carré's novel. The classic mini-series has a clearly delineated beginning and end. The characters could pop up again in another story, but will likely be a self-contained thing, like the tales that pulled Prime Suspect's Jane Tennyson through the London underworld and police bureaucracy on English television over two decades. (Tellingly, when NBC tried to reinvent that beloved set of movies and mini-series as a typical week-by-week procedural, it felt like just another cop show with a seedy-adorable lead character.)
Other modern mini-series are billed as anthologies, like ABC's American Crime, HBO's True Detective (which may have cooked its own goose with a poor second season) and FX's Fargo, American Horror Story, and American Crime Story. They seem intended to sit alongside each other like novels set within the same geographic area, or short stories gathered in the same fat-spined collection. Fargo, which followed an impressive first season with an even richer follow-up, made this notion official in an episode that started with a reading from a book about true crimes of the Midwest, implying that everything you were seeing on Fargo the show (and perhaps in the Coen brothers' original 1996 film as well) was part of an ever-expanding folksy-gothic universe, akin to Stephen King's Maine or William Faulkner's Yoknapatawpha County. The People v. O.J. Simpson was an acclaimed adaptation of Jeffrey Toobin's nonfiction book about the case; its half-mournful, half-aghast tone suggested the movie that Bonfire of the Vanities could have been but wasn't. As of this writing, it seems a lock to dominate the mini-series category at the Emmys. Season two of ACS will offer a story about the effects of Hurricane Katrina on six people in New Orleans; though details are sparse, it sounds a bit like HBO's Treme plus a procedural criminal justice element that Treme mostly avoided.
HBO's forthcoming The Night Of, a procedural from Steven Zaillian (Searching for Bobby Fischer) and Richard Price (The Color of Money, The Wire), follows the travails of an Arab-American cabdriver on trial for murder. At a recent Tribeca Film Festival event, Zaillian said the story line will wrap up in the finale, but if the series is a hit with audiences and critics, there could be a follow-up that showed some of the city employees showcased in the first story working on a different case involving a new set of characters. This is par for the course in the new world of self-contained TV storytelling: You keep part of the story going — certain individual characters, perhaps, or one story, or a certain regional flavor (as on Fargo) but not necessarily the whole thing.
The latest iteration of limited-run series brings the U.S. in line with storytelling as practiced in other countries, especially the United Kingdom, the Netherlands, Denmark, and Israel, which supplied ideas for many recent American series, including Fox's Gracepoint, a remake of the U.K.'s Broadchurch (for a detailed breakdown, read Judy Berman's "The Rise of the British Thriller on American Television"). It also offers writers and directors an unprecedented opportunity to play around with form, often in ways that might be a bit off-putting to viewers if they were implemented on a regular weekly series that had set rhythms and an established, comforting style. Louis C.K.'s download-only program Horace and Pete, which nobody knew as a mini-series until C.K. said there would only be one season, is one of the most stylistically radical examples of a one-and-done series, mainly by virtue of the way it embraces conventions of the 1970s Norman Lear social-problem sitcom and fuses it with the kitchen-sink traditions of American and English theater from 50 or 60 years ago.
Limited-run series also prove more enticing to actors who might otherwise avoid TV because they don't want to get chained to one role for several years running. Matthew McConaughey's brooding, macho-intellectual performance as Rust Cohle in the buzzed-about first season of True Detective, helped make him a star again, arguably more so than his Oscar-winning performance in Dallas Buyers Club, a small film seen by few. The Jessica Lange Appreciation Society gained countless new members thanks to the actress's Grand Guignol stylings on four seasons of American Horror Story (she took a small role on Horace and Pete as well). And the program made a newly minted star of Sarah Paulson, an equally versatile and ferocious performer, albeit in a subtler vein. John Travolta's performance as attorney Robert Shapiro on The People v. O.J. Simpson was a latex-and-eyebrow-pencil gargoyle in the vein of a Johnny Depp character, at odds with the more subdued work of some of his co-stars, but somehow he worked within the program's sardonic, satirical context, and captured something essential about the real Shapiro, who had a scowling wax-dummy quality even when he was at his most demonstrative.
In an era when superheroes, space fantasies, and franchised young-adult novels suck most of the cultural oxygen out of American cinema, it's hard to imagine such a weird yet daring performance sitting at the center of a major motion picture, just as it's hard to imagine the likes of Felicity Huffman, Regina King, Timothy Hutton, and Lili Taylor giving the sorts of lived-in, down-to-earth performances they delivered as two different sets of characters in seasons one and two of American Crime. It's also debatable whether mass movie audiences would tolerate, say, a true crime story that switched between points-of-view regularly, as the O.J. Simpson miniseries did. These and other creative possibilities are more characteristic of long-form TV storytelling right now. While we've seen regular, ongoing shows take advantage of some of them (Girls, Unbreakable Kimmy Schmidt, BoJack Horseman, and Game of Thrones, to name a few), the flourishes seem more brazen in many of the limited-run series. Why? Maybe it's because the goal of a regular series is to give viewers of each new episode and season something that's the same yet different, wringing infinite variations on a handful of ideas, while the mandate of the limited-run series is to constantly reinvent itself, surprise and challenge viewers, and take risk after risk, knowing that if some of them don't pay off, it's not the end of the show, because they can always just start over.