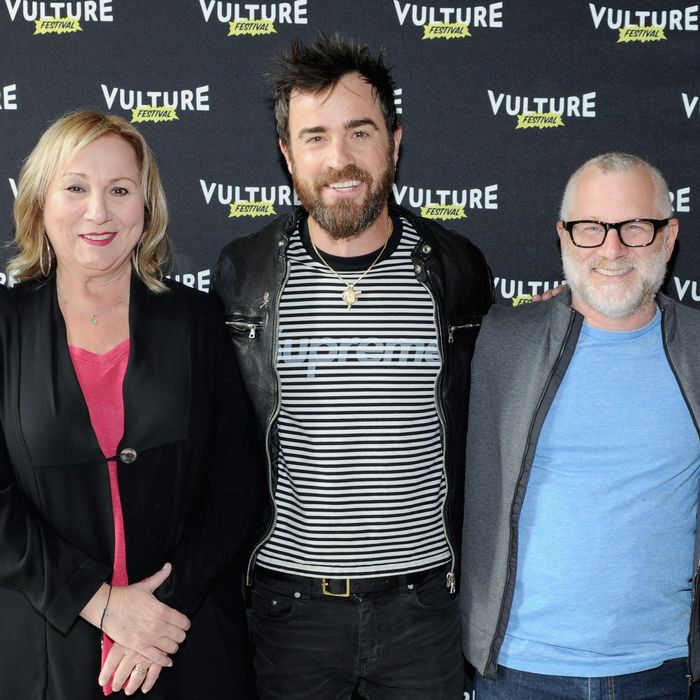 NEW YORK, NY - MAY 22: (L-R) Damon Lindelof, Mimi Leder, Justin Theroux, Tom Perrotta, and Ann Dowd attend the Inside The Leftovers panel discussion at the Vulture Festival The Standard at The Standard on May 22, 2016 in New York City. (Photo by Craig Barritt/Getty Images for Vulture Festival)
Photo: Craig Barritt/2016 Getty Images
Tears, teasers, and tales of onset injuries made up The Leftovers panel at the third annual Vulture Festival on Sunday. The event focused on several episodes from season two, but it was the eighth episode of the season, "International Assassin," that triggered an emotional response from the show's stars Ann Dowd and Justin Theroux.
Dowd teared up at the event when talking about how she connected to the plight of her character, Patti, who in the episode transforms from an adult antagonist to an innocent child. "We had both independently come to this idea that their story was a love story," Theroux said of Kevin Garvey's relationship to Patti. "Obviously not a romantic one. But in a way, somehow, they were the most loving to each other." Theroux praised the episode for humanizing one of the main villains of the show by having her tell Kevin about her tragic life.
 
When Dowd first learned of Patti's death, she said she "wept for two days." Patti's death resonated with her, specifically, on the idea of closure. "That was what Patti was doing, letting go," Dowd said, starting to tear up. "[Patti] had nothing. She was told she was shit from day one and yet she found her resurrection. And she surfaced as a woman who said 'I have something to do and it matters.'" Dowd said the fault in Patti was that she was only focused on a physical death, but needed Kevin to finally help her let go in a spiritual sense.
Some season three teasers were also addressed during the event when the conversation shifted to whether Dowd would be returning to play Patti. Showrunner Damon Lindelof said he could not confirm nor deny whether the actress would return, but said "there is a finality to what you've already seen." When asked about what audiences could expect for the show's final season, Lindelof refused to disclose much, only saying they have started production. "We wrap in Texas at the end of this week," Lindelof said.  "And then we'll be going to that other place that we're not allowed to talk about."
 
Theroux also revealed he's previously sustained several injuries on set. "I went to the hospital," the actor said. "I got ten stitches in my lip and I broke my nose." Theroux said a stuntman was supposed to move his arm a certain way, but didn't and caused the actor some rough injuries. "Both episode eights in both seasons I shattered my hand, I got stitches in my head, and I broke my knuckles." Like any good showrunner, Lindelof replied with, "Well here's to keeping the tradition alive."