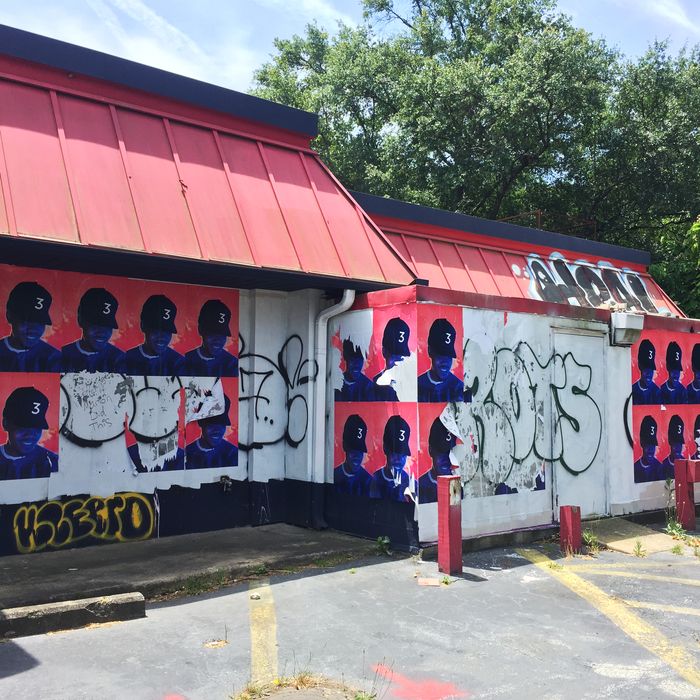 On Moreland Avenue, in Atlanta.
Photo: Rembert Browne
On Monday morning, I woke up at my mother's house, in my late-teen bed, in Atlanta. No one was home, so instead of playing music through my headphones, I hooked up my speakers and began the day with two songs: the Chance the Rapper–assisted Kanye West song "Ultralight Beam," off The Life of Pablo, and the Kanye-assisted Chance song "All We Got," off his new mixtape, Coloring Book.
Both songs open their respective albums, and in both, the 23-year-old Chancelor Bennett is the standout. From the moment "Ultralight Beam" was performed on SNL in February, the excitement for Coloring Book —  then known as Chance 3 — was feverish. Even as other major albums rolled out this spring, there was a sense that Chance was dialed in. There were two songs released early: the danceable, Donnie Trumpet–trumpet–filled "Angels," featuring Saba; and "Blessings" featuring Jamila Woods, a song that sounds like Vacation Bible School. Between his Kanye verse — which included Chance threading Christian themes into other secular rhymes — and these two songs, it was a safe assumption that whatever Chance was concocting was going to be different, special.
With Coloring Book, Chance maneuvers from verse to verse, song to song, as someone who knows his voice matters. He talks like someone who genuinely believes being common, but with uncommon talent and perspective, can bring about positive change. The way he proudly declares his Christianity suggests a true belief, but also a confidence that nothing can derail his cool, not even rapping about the Kingdom. And the way he straddles the line of topics both respectable (Jesus) and less-than (drugs) shows he's more interested in transparency than perfection.
The stories on Coloring Book — ones of joy, young love, family, fatherhood, separation, late nights, stress, God, loss, death — often feature Chance as the protagonist, but he's also narrating along the way. Chance is the fly on the wall, the eyes on the street. But with that, he's not telling you what the people of Chicago are like from a distance, he's in a constant state of "we" — and we back, and we back, and we back, and we back. It's a different album, a special album, because Chance has been blessed to have seen a lot and lived a lot, and he's passionately reporting on his findings.
In "Ultralight Beam," you have Chance rapping over a heavily gospel-inspired sound. In "All We Got," you have Chance rapping, also weaving Christianity into similarly non-religious rhymes, this time over a marching-band sound. Both of these songs are lyrical standouts, but the instrumentation overwhelms with emotion, giving each a sense of importance that is rarely felt in popular music.
The tools that are the foundations of gospel and bands — organs, choirs, brash brass, piano, drums — these sounds are the soul of Coloring Book. There are moments reminiscent of the sounds you'd hear coming through the stained-glass windows of a black church on Sunday morning, or from an early-morning band practice at a black high school, or halftime at an HBCU football game. Chance is making black music, and it's not black music because he is black, or that it's specifically for a black audience — it's because these sounds are the soundtracks of black neighborhoods. And Coloring Book is a story about being a black kid in a black neighborhood in a black city.
In my living room, after a few repeat listens of "All We Got," I moved to the second track on the album, "No Problem," featuring 2 Chainz and Lil Wayne. The song was released before the album, so I was already familiar with it. But as Sidney Deane would say, I'd listened to "No Problem," but I hadn't heard it until Monday. The infectious combination of Chance, Chainz, and Wayne masked the hook, Chance saying "there go Chano ridin' through the streets, they be like, 'There he go.'" That was such a pure feeling, one that I missed. Listening to those words again, I immediately knew what I had to do. I called my mom and told her that when she returned, I'd need the car for a few hours.
I couldn't write about Chance in New York and I couldn't properly digest it sitting at the kitchen counter. This was an album about home, an album that needed to be experienced at home. Not house, home. I could never pretend to understand Chance's Chicago. But the themes of Coloring Book felt familiar. My Atlanta was his Chicago, and I had my own West Chatham — southwest Atlanta. It was time to listen to his record the right way.
***
When I got to Moreland Avenue, "Same Drugs" was on full blast, with all four windows down. But as I approached First Iconium Baptist Church, I turned it down. There was a hearse in front, cars on the opposite lawn, and when an older black woman in all black (dress, hat, glasses, cane) opened the church door, the faintest hint of piano traveled outside. This was a Monday morning funeral. "Same Drugs" did have heavy church vibes, but it wasn't the Kirk Franklin and T-Pain assisted "Finish Line/Drown" — an all-out, new-age gospel song, one of those songs that felt like the Franklin era of pop gospel, when they were trying to get youths to come as you are to Jesus, because saving souls, cleaning up the streets, and making Christianity accessible was finally more important than Sunday-best respectability — it was a song called "Same Drugs." Passing the church and finally getting to the Westside-bound expressway, I turned up the next song, "Mixtape" featuring Atlanta rappers Young Thug and Lil Yachty. It sounded great in the day, but the beat snarled in a way that was built for nighttime.
Atlanta is one of those cities where you can go from one side of town to the other, literally and figuratively, in five minutes. In the time it took to get to Lil Yachty's verse, I'd already gone from the Eastside to my Westside. And by the time Yachty said "Bitch It's Boat from the 6," Spelman College was on the horizon. Lil Yachty's troll was immaculate, borrowing the term "the 6" — meaning Zone 6, one of Atlanta's pride-filled neighborhood police zones — from Drake. I'd just left the 6 for southwest Atlanta, a place that, for the early part of my childhood, was America to me.
As I do, I drove through the Atlanta University Center to see the school that molded my mother (Spelman), the school I was supposed to attend (Morehouse), the school where my mother once taught (Clark Atlanta), and the school that my mother tried to save from shutting down (Morris Brown).
"All We Got" was back on as I passed Booker T. Washington High School, where my mother and all of her siblings went to high school. It's also where my father went to high school, around the corner from where both my parents were raised. Both my parents were in the band — my mother the head majorette, and my father the drum major. With the brass from "All We Got" blaring in my car, I could almost see them marching on that field to the left, that picture of them on the inside cover of their 1967 Washington High yearbook almost coming to life.
Growing up in this neighborhood, we all felt the same, especially in the summers. There was no way to know it wouldn't always be that way, that simple. Chance saying, "None of my niggas ain't have no dad, none of my niggas ain't have no choice" on "Summer Friends" raced to the front of my mind as I made the sharp right on red. That was my burden, but everyone around here had their own issues, that unfair thing that made them stronger. The words throughout "Summer Friends" are hopeful, but they're also haunting. The black neighborhood is beautiful, but it can also be unforgiving.
Summer friends don't stick around

Stick around, summer friends

79, 79, 79, place

City wide, city wide, city wide, city wide.
I called my tennis coach, the man who looked after so many of us black kids on the Westside each summer. He said he was at Twan's new restaurant, on the corner of Joseph Lowery and Martin Luther King. My coach and his brother were there, up front, eating breakfast. Like many of the conversations I have when I come home, the one we had centered on how long I was home, why I was home, when I was coming home for good. After eating and making a quick stop at the tennis center, I had to split from the group to go to my uncle's church on Bankhead. "Boy, your uncle is so proud of those new fields at Washington High," my coach said. "I saw him post on Facebook, said he wanted to suit up and play again." I hadn't even considered a world in which my coach was friends with my uncle on Facebook. But then again, of course.
Texting my uncle to see if he was around, I listened to both "Blessings" tracks from the album. I was scanning for expletives, because I really wanted to listen to them in an empty church as I sat in a pew. My uncle is the pastor, but he also plays the bass in the choir. If he wasn't busy, maybe I could convince him to have a 10-minute jam session. I'd grab a tambourine, singing "are you ready, for your blessings, are you ready, for your miracle?" while dancing down an aisle. Or maybe I'd play "How Great," the most traditional gospel song on the album for the first three minutes, until Chance starts rapping, and then Jay Electronica starts rapping. It was so perfect, thinking about Electronica — associated with the Nation of Islam — rapping on the album's churchiest song, with a bean pie, purchased on the street from a NOI member minutes earlier, sitting shotgun as I drove toward the Baptist church.
Do churches have aux cords? Please say churches have aux cords. This idea was becoming too good to be true. And then it was — my uncle said he wasn't there. He had to go to the cemetery, because he was also the chaplain at Southview, the city's largest black cemetery. I still drove by, just in case. The pastor parking spot was empty. The marquee in front of his church said "Celebrating Our Pastor's 12th anniversary Sunday 11 a.m." That was definitely yesterday, wasn't it? Shit, I should have known that. I should have called.
I had an hour left before I had to pass the car off to my mom. That was just enough time for the final leg, going to the other side of town, by my high school. Being comfortable on both sides always felt like having dual citizenship, both a blessing and a curse, which caused confusion but also gave perspective.
The stories Chance tells, they all suggest he understands his unique position, his purpose, and perhaps even his duty. But even if he's seen and done a lot, all roads lead back home. It's what Jeremih meant on "Summer Friends": "Even when I change, a nigga never changed up / I always bring my friends, my friends, my friends, my friends up." This album isn't just the story of Chance, it's the story of his people, a love letter to his neighborhood. He knows he's blessed, so much so he said it twice. But he also knows he's no more special than the people he grew up around; he simply is the one who lived to tell everyone's story.