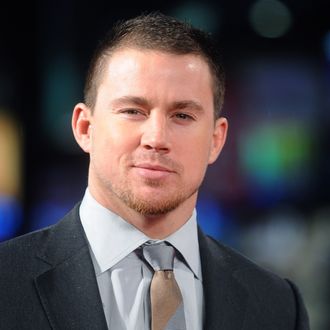 Channing Tatum (or just your average weird dad) announced in a Facebook Live video Wednesday that Magic Mike will be coming to Las Vegas at the Hard Rock Hotel & Casino. This basically means Magic Mike is making a sequel (live) over and over again.
Tatum will direct a slew of shirtless men with some of the original Magic Mike team, including choreographer Alison Faulk and assistant choreographer Teresa Espinosa. According to the man himself, there's also hope for Diane Keaton's dream husband to take the stage:
"If I'm ever in shape enough to actually do the show again, I will absolutely step on stage, just because it's fun."  I'm sure there'll be a lot of crazy cameos."
The team has partnered with Cosmopolitan to tailor the show to "what you think is sexy," says Tatum in probably one of the most feminist comments he's ever made.
Here's the video produced with Cosmopolitan, which includes a Field of Dreams reference that gets real dirty, real fast.
Previews start March 2017. In other words, get your comments in and your dance scorecards ready — Vegas is about to see a lot more hip-thrusting.