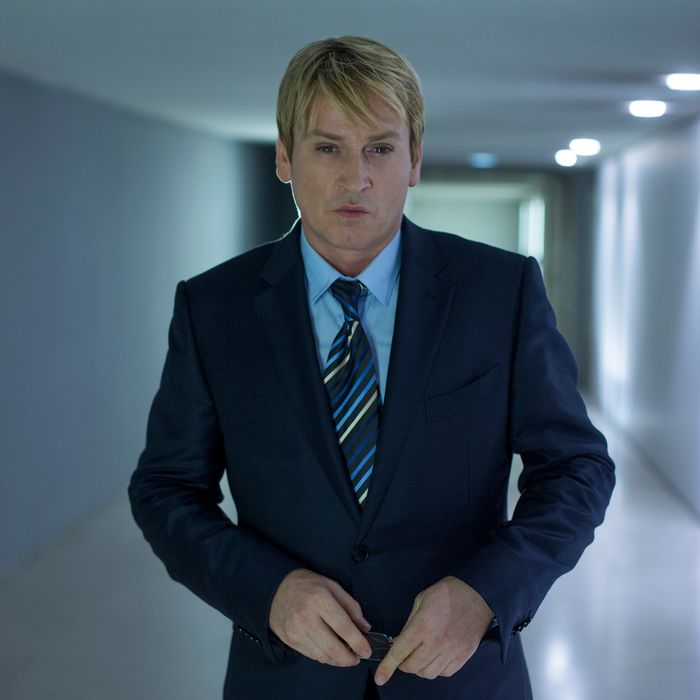 Benoît Magimel as Lucas Barres.
Photo: David Koskas/Netflix
Let's have a minor appreciation for Selim, the sensitive soul from the hardscrabble housing district of Félix Pyat. Like every other actor on this woefully misguided waterfront casino development of a Netflix show, Nassim Si Ahmed is saddled with laughably basic dialogue and paper-thin motivations. (Just one example: The minute Salim falls for Julia Taro, he goes to bat campaigning for her father in the ghetto even though the people who run the place have already strong-armed a voting bloc for Barres). Yet, Si Ahmed's open-hearted performance somehow gives us a reason to invest in the immigrant's fate. He's a brief flash of integrity in this godless swamp, even after a preposterous stabbing sends him to an untimely end in this episode.
You see, the brawl comes about after a standoff over a single vote at a polling place in les quartiers nord that seems to invite open corruption, with gang leaders voting by proxy for the dead. And the only reason Selim is only at the Farid-sanctioned polling station because the mob henchmen physically sealed off the other station with cinder blocks and metal bars. (The second layer seemed unnecessary, non?) So listen up, American conservatives: Cartoon-level voter fraud does exist, but you have to go to the slums of France to find it.
Marseille's sudden attempt to show us the real dark underbelly of local politics — rather than a roll call of whomever Benoît Magimel is banging/betraying — makes this episode feel like a course-correction that's too late. The ship is already half-submerged. The title of this episode is even a play on France's national motto, with "Fraternité" subbed out for "Sans pitié" — a message of patriotic brotherhood subverted by the need to be "merciless." Cette ironie me dégoûté.
If I didn't know any better, I'd be convinced that the show's continued structural incompetence is really just an elaborate metaphor for Marseille itself, a city it depicts as crumbling from the inside. In truth, the show's editors probably didn't know what they were doing when they transitioned in rapid succession from the image of Julia and Tarim making out to them having sex on the stairs to Papa Taro snorting his latest round of cocaine, blurring one awkwardly-staged type of climax with another and conferring uncomfortable daddy-daughter subliminal messaging. But here we are, with Gerard Depardieu's hulking figure bent once more over the drug stash in his office, attempting to relieve the stress of his absurdly underwritten wife challenging his secrets.
As expected, Taro and Barres each ascend to the second round of voting so that Marseille has a reason to continue for the final two episodes. Taro's invoices scandal once again threatens to backfire on him — but honestly, the particulars of where party officials' loyalties lie have become too buried to be of much use. It should be obvious by this point that no one is a hero and that Marseille, like most cities, is propped up by a teetering foundation of corruption and lies. The only difference? This city seems to be worse at making such criminal building blocks look elegant; in a secret meeting, the conspiring parties talk to each other in clumsy food metaphors. Politics needs some "seasoning," you say? Well, no matter the spices that Marseille is currently using, it's time to up the dosage and let's see how crazy-bad this show can get.
Baguette Bits:
I haven't mentioned the title sequence yet, even though it's probably the best part of the whole series. Created by VFX team Brett & Cie and scored to Orange Blossom's "Ya Sidi," it may be yet another obvious, shrouded-in-darkness rip-off of far more complex American influences, but it nevertheless allows us to briefly pretend that there are higher aspirations at work.
Julia resigns from the newspaper before she can do anything worthwhile, including whatever that first assignment was. Her editor tries to refuse her resignation. Dude, does your journalistic reputation mean nothing to you?
If I haven't yet made clear how laughably Marseille attempts to appropriate genre conventions, this Flavorwire post helpfully categorizes more for you. French speakers will prefer this Tumblr collection of the show's most egregious dialogue. Rough translation: It's bad.