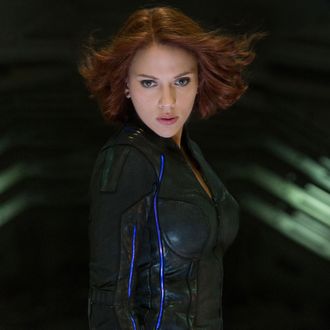 Photo: Jay Maidment/Marvel
Kevin Feige and the Marvel Cinematic Merchandise-Manufacturing Machine are really, truly committed to making more movies. One of those movies — which will enter production sometime after 2019, after nine other Marvel movies are released to what will almost certainly be record-breaking box-office profits — might star Black Widow. In an interview with Deadline, Feige expounded on the long-churning controversy over the lack of a Black Widow movie:
DEADLINE: You've got a bunch of characters in this movie from Falcon and War Machine and Black Widow and Hawkeye, who have so far guest starred in movies with another characters title above the fold. Is there one destined to get a solo movie down the line?

FEIGE: We've announced the next nine movies, 10 counting Civil War, through the end of 2019. Where we go beyond that are ongoing discussions that we'll focus on in the next few years because we have a lot to do before then. Of the characters that you've just mentioned I would say certainly the one creatively and emotionally that we are most committing to doing is Black Widow.

DEADLINE: Why?

FEIGE: We think she's an amazing character. We think Scarlett Johansson's portrayal of her is amazing. She's a lead Avenger and has amazing stories in her own right to tell that we think would be fun to turn into a stand-alone franchise.
Marvel has had its share of controversies lately. Like this one. And this one. So it's nice to see them try to rectify a problem that's been the subject of myriad think pieces, even if it'll take another three years.