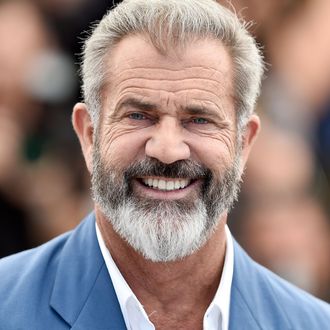 Odin? Not him!
Photo: Pascal Le Segretain/Getty Images
Despite being a big Hollywood action star, Mel Gibson has managed the tricky feat of staying out of the big Hollywood superhero machine. But for a brief moment, Mel nearly joined the MCU. When asked by The Guardian if he'd been approached to do a superhero film, Gibson said, "Yeah, long time ago, to play Thor's dad. But I didn't do it." The role of Thor's dad, Odin, went Anthony Hopkins, saving us all from having to do some moral calculus to reconcile great Australian Chris Hemsowrth with, um, other Australian Mel Gibson. Gibson could still join the MCU in other ways — Robert Downey Jr. has said that he'd do Iron Man 4 if Gibson was behind the camera — but it doesn't seem like he's too enthused about the prospect. The Guardian asked Gibson what he makes of the current crop of superhero movies:
Some are good. Some are kind of funny … Guardians of the Galaxy. Or the first Iron Man. And some of them are just like retreats. I mean you can watch them do Spider-Man five times … There is a slight shift in film. But, then again, I think all films are suffering from people not being able to now open them with their name. It's a different kind of business these days.
Mel Gibson: pining for the days when people wanted to put his name on movies.