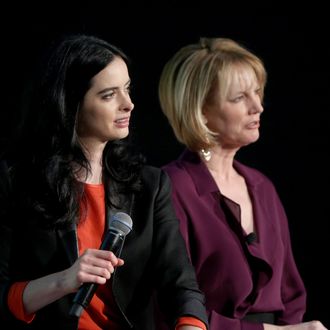 Krysten Ritter and Melissa Rosenberg.
Photo: Cindy Ord/2016 Getty Images
"Where are the women?" asked Melissa Rosenberg (Twilight trilogy movies, Dexter), showrunner of Netflix's Jessica Jones. Where are female characters that become the stuff of legend, holding their own with Tony Soprano, Walter White, or Dexter? She rattled off these familiar names to the Vulture Festival audience while talking with editor Abraham Riesman and Krysten Ritter, Jessica Jones herself. Rosenberg knows her antiheroes; she wrote Dexter for years.
Enter Jessica Jones, a new kind of antihero, and a new kind of superhero, too. She does not wear spandex and heels to fight crime. She dresses in "boxy" sweaters and a leather jacket; ass-kicking black boots. Rosenberg laughed, "[She] does not give a shit about how she looks." "Skin-tight and low-cut" were out, as well as a lot of make-up. "Honey pot, seductress," Ritter said, "We are never doing that," to great audience applause.
While Jessica has a sexual side underneath all that leather, she is never primarily sexualized. Her scenes with fellow superhero Luke Cage (Mike Colter) are "raw and real," said Rosenberg, and always character based, she breaks the bed, or a wall, and remains unapologetic about wanting what she wants. Her powers aren't stylized, there are no energy rays, just a real-life representation of  a female force of nature. "Women walk through the world more physically vulnerable," Rosenberg said. "Jessica has less of that because she can defend herself."
Keeping Jessica real also affects the way the series is shot by its many talented directors. She is "of the street … on the ground on the street … connected to NY," Rosenberg said. The series welcomes the audience into Jessica's life, her apartment and makeshift detective agency. One audience member mentioned she did not even know the series was "hip," she was watching it because she liked detective shows until her daughter clued her in this was an "it" series and about superheroes. After all, Jessica Jones is not about to join the Avengers. She "does not give a shit" about the other superhero characters in the Marvel Universe she inhabits, Ritter said. She just wants "to pay her rent and buy whiskey."