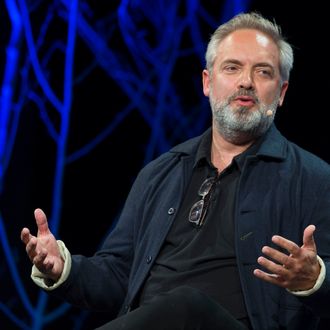 Photo: Matthew Horwood/2016 Matthew Horwood
The tumultuous casting of a new James Bond aside, Ian Fleming's universe just lost one prime asset: director Sam Mendes. Appearing at the Hay Festival of literature in Wales on Saturday, the British director — who directed the acclaimed Skyfall and Spectre — said he is officially done with the spy franchise. "It was an incredible adventure, I loved every second of it," he told the audience. "But I think it's time for somebody else." Mendes said he hopes the next director will take Bond in a "slightly unexpected direction," also noting — sorry, Tom and Idris enthusiasts — that the casting process for the next Bond is "not a democracy," and might even deviate into something unexpected.
"[Producer] Barbara Broccoli chooses who's going to be the next Bond: end of story," Mendes continued. "I can guarantee whatever happens with it, it will not be what you expect. That's what she's been brilliant at, and that's how it'll survive … it's not a public vote, and I think we're in an age where everything is deemed voteable on. Some things just aren't and it's better that way." Maybe Jane Bond, then?