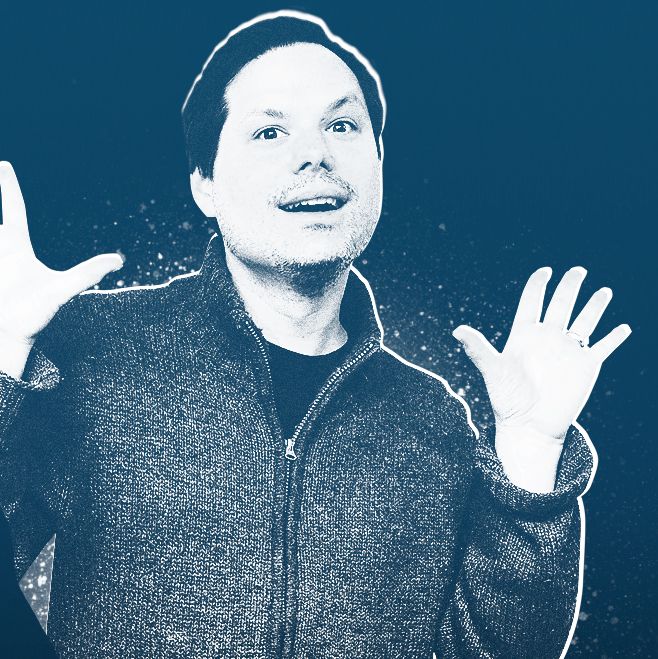 Kevin Allison and Michael Ian Black.
Photo-Illustration: Vulture and Photo by Getty and Courtesy
Nearly 30 years after the State first formed, there's finally a complete oral history of the beloved sketch group. The book tells the story of how Kevin Allison, Michael Ian Black, Robert Ben Garant, Todd Holoubek, Michael Patrick Jann, Kerri Kenney-Silver, Thomas Lennon, Joe Lo Truglio, Ken Marino, Michael Showalter, and David Wain first met, made their MTV sketch show, broke up, and stayed friends. Yesterday, we ran an excerpt of the second chapter, which focuses on when the gang first found each other at NYU. With the book out today, Vulture asked Michael Ian Black and Kevin Allison to interview each other about it — though they mostly discussed German pee parties. Black and Allison will be appearing with the rest of the State at L.A.'s UCB Theatre this weekend. And Allison is hosting a special State edition of his podcast, Risk!, on May 20 at Brooklyn's Bell House. Until then, here are Kevin and Mike.
Michael Ian Black: How have you been?
Kevin Allison: I've been pulling my hair out because I've been so busy trying to book this trip to Berlin today.
What's in Berlin?
There's a big pee party.
Right. That's where one has pee parties, right?
Friends have told me there's this gigantic warehouse where thousands of guys show up and pee on one another.
Right. 
I wasn't sure if that idea appealed to me or not.
I can answer that question for you: Yes, it appeals to you. [Both laugh.] 
Well, sometimes it's hard to tell until you get there. Like some kinky stuff works for me because of the individual. Like, the only way I've experienced water sports is I felt like, Oh, this is hot that this guy's urine is on me because of who he is. 
Right, you enjoy his urine's personality. It's not just any random urine. 
This party in Berlin sounds like going to be a car wash. I don't want to be thinking, Now wait a minute, someone in this room is deficient in vitamin D-12.
Or I don't like this person's view on modernism.
Right, exactly. But I'm going to see. How about you? How are you doing?
In some ways, better than you, and in some ways, I'll never be as good as you. 
That's always the case.
At these pee parties, they have a lot of water for people, right? It seems like people are going to have to stay very well-hydrated, just to get through the night. 
I think so. Plus, pee from a person who is not very well-hydrated tastes appalling.
Right. Right right right. And when is this?
It's toward the end of May. It's around Memorial Day.
Alright, so just at the tail end of asparagus season.  
Oh yeah, it's important to keep that in mind. They should have an asparagus room for those who want to avoid that.
So it'll be right after the State events.
Exactly. Have you read the whole book at this point, by the way? It's a long book.
I can't. 
What happens to you emotionally?
I seize up. I get internal hives when I read too much of it.
That might also happen to you if you went to a pee party.
Oh, I know, but it wouldn't be limited to the internal hives. It would be all over hives. It would be internal, external. It would be psychological, spiritual. It would be every kind of hive you can get. 
You'd hate to pay for a plane ticket over to Berlin just to learn that.
Now I could probably do the peeing. I don't want to get peed on though.
Oh, then you would be a water-sports top.
Uh-huh. 
You're not versatile.
Anyway. I'm the same way with photographs. I can't deal with nostalgia. It makes me very uncomfortable. 
That's interesting. I spend my whole goddamn life telling stories about the past, but for years, there was this literary agent that was trying to convince me to write my own memoir of being in the State, and I used to always tell her, that's not really my story to tell. That's definitely an 11-person story to tell, so that's why I'm happy that this is happening at least. One of the most interesting things about it is listening to other people tell stories that I had in my head going down a certain way, and they'll have a great version of that same event but that has a very different beginning and end.
Yes, I find that stuff interesting too when I can bring myself to read it, which is not often.
I will say that there are parts of the book, especially the parts of the book that focus on the creativity, about how certain ideas were arrived at and how certain sketches went down when we were filming, that fans will really enjoy.
That stuff I can read. I can't read about the bad times. And for me, it was almost all bad times. 
It will definitely be a little eye-opening for people to see how challenging it is. But the thing of it is, as we've all had lots of different creative experiences, I don't blame us at all for having had tough times. There was a lot of difficult tension or confusion, but I still look back at us with a lot of compassion.
Yes, I have come to find the compassion. I have a lot of compassion for everyone in the group except for myself.
Aw.
Yeah. 
But you look great. You look great in those old photos.
And honestly, if that's all I'm judged on, I'm more than happy with that. 
Did I tell you, I used to think, when I first saw you at NYU, that you looked like a dark-haired River Phoenix.
Did you?
Yeah, so you were another of the reasons that I wanted to get into the State. Because I thought that you were hot.
"I'm going to suck this guy's dick, or vice versa." 
Right, right. And at that point, I was still too young and innocent to even know about pee play, so rest assured that didn't enter into my thoughts. I was hot for probably …
Ninety-five percent? Ten of eleven of the group, you were hot for.
It was several people.
So, your passport is in order. You're all set to go.
Of course. I have to have the passport ready at all times, especially in case the fascists take over the country.
And outlaw peeing altogether.
Right, I'll be the first against the wall.
Now are there also scat parties that are similar to this?
There are. Over in Berlin. In certain parts of Europe, there are. But not here in the States. New York City actually is just about the least kinky place imaginable after Rudolph Giuliani. There's kinky stuff that happens in New York, but it's all private in people's apartments. Places like the Mine Shaft or the Hell Fire Club or anything like that are long, long gone.
The same thing happened with poker. Giuliani and Bloomberg got rid of poker. The underground poker economy. There used to be a poker club where you would go and play poker while shitting on people, but that's gone.
See, that is an inconvenient fetish to have.
It was very inconvenient. But they had special chairs, so it was fine.
Oh yeah, I own a rim chair.
Of course you do.
It's a chair that looks like a toilet without a bottom on it.
Now, I don't know how limited your income is, but I know that you don't have boundless income.
Right.
But some of it is going to a rim chair. 
Yeah, well, for God's sake. That is definitely in the necessity category for me.
I'm just quickly Googling rim chair, just to see what they go for. On eBay — not bad — this one was sold: $120, used, some scratches. Some scratches.
Oh yeah. Well, I don't think most people are all that finicky about the upkeep of the chair, as long you're not falling out of it.