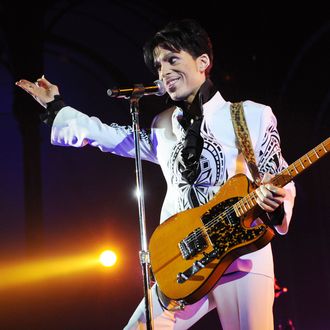 Something tells us he would've appreciated this.
Photo: Bertrand Gruy/AFP/Getty Images
In life, Prince fought tirelessly to protect his name — whatever it was at the given time — to keep from being exploited. In death, his home state is trying to preserve that legacy. Minnesota's state legislature has proposed a bill inspired by Prince, appropriately titled the Personal Rights in Names Can Endure Act (so yes, the PRINCE Act) to ensure that a Minnesotan's estate can maintain publicity control over the commercial use of a person's name and likeness following their death. The bill, which the state is trying to sign into law before the current session ends in two weeks, would protect the deceased's name, image, voice, signature, and more, and would be good for 50 years after their death. (It would also apply retroactively to any Minnesotan, not just Prince, who died before its signing.) Because Prince had no will, his estate is currently under the court-appointed control of Bremer Trust, which is in the complicated process of dividing Prince's assets between his six surviving siblings. The bill, if passed, would give Prince's family more leeway to decide who, if anyone, gets to profit off the late legend's name and image. As for Prince's music, well, the estate has already allowed the world to hear it on Grey's Anatomy and Scandal, so baby steps.