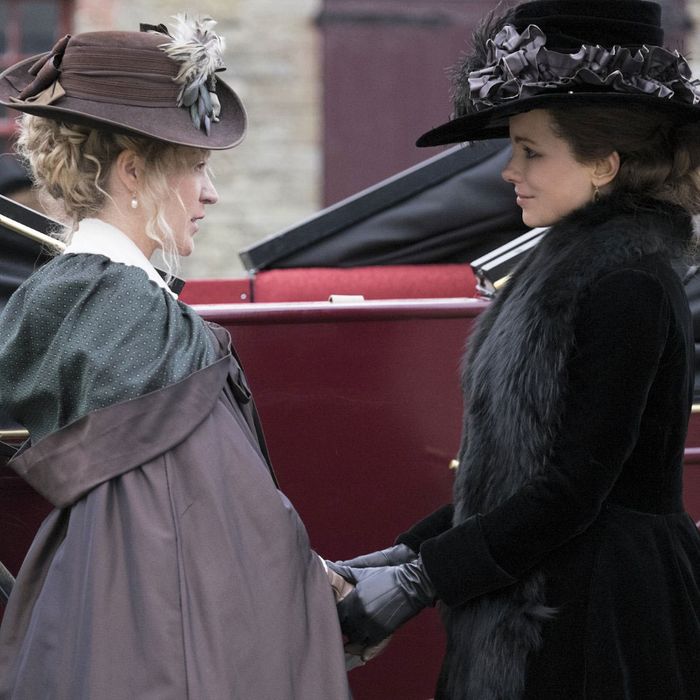 Chloë Sevigny and Kate Beckinsale in Love & Friendship.
Photo: Bernard Walsh
The elaborately formal period comedy of manners Love & Friendship has a different vibe than other movies of its ilk. The delight of its director, Whit Stillman, enlivens every scene, so what might have seemed stilted is full of human faces in exquisitely subtle states of panic. Heretical as it sounds, Stillman has improved on his source, Jane Austen's pre–Pride and Prejudice epistolary novella commonly known as "Lady Susan." (It was never titled.) The book reads like a novelist's first stab at getting into her characters' heads. But it droops with contempt for its protagonist, a narcissistic, impoverished widow with designs on a married lord and an indifference to her teenage daughter. Stillman has no evident interest in hating Lady Susan Vernon (Kate Beckinsale). The woman must be defeated, yes, for the sake of her daughter. But she's attractive, clever, and admirably indefatigable. Above all, she offers a means of entry into a realm Stillman adores.
He serves up this late-18th-century world with theatrical bravura. The dramatis personae — landed English gentry — are presented, one or two at a time, with impish title cards, but the actors play it straight, with scant traces of the camp that disfigured Stillman's last comedy, Damsels in Distress. It's a delicate balancing act. Using the choicest lines from the novella's letters and adding some of his own, he creates Wildean texture, and Beckinsale's clear face and brisk cadence let the character's peculiar genius shine. How can you not marvel at a mother who declares of her daughter's private school, "The fees are too high to even think of paying! So, in a sense, it's an economy"? Or who terms America "a nation of ingrates," adding, "Only having children makes you understand such behavior"?
The chief theme of Stillman's original scripts — the disconnect between his hyperarticulate characters' philosophies and their ungovernable emotions — is in evidence, though faintly: This is a world in which ideas are less important than manners, and the victor is often the person with the least permeable mask. Individually, Lady Susan outmatches her opponents, running over her sister-in-law and hostess, Catherine Vernon (the nobly conflicted Emma Greenwell), and Catherine's husband (Justin Edwards). But pressuring her daughter, Frederica (Morfydd Clark), to marry the bombastic Sir James Martin (Tom Bennett) overtaxes her. And she's distracted by her hostess's brother, Reginald DeCourcy, played by Xavier Samuel with a bit of Hugh Grant's impish lockjaw. The cast's only weak link is Chloë Sevigny as Lady Susan's American confidante, but the performance makes you understand Sevigny's vitality. In other roles, her rhythms — dreamy, sharp, dreamy again — are her own. She's just not a metronome actress.
Stillman opens with music that recalls Handel's Sarabande, which Stanley Kubrick transformed into something grand and portentous in Barry Lyndon, but returns it to its original lightness. That seems apt: This is the anti–Barry Lyndon. Only the generic title disappoints. Leo Rockas, who turned Lady Susan's epistles into an Austen-esque novel, suggests Flirtation and Forbearance or Coquetry and Caution. But by any title this is a treat.
*This article appears in the May 2, 2016 issue of New York Magazine.