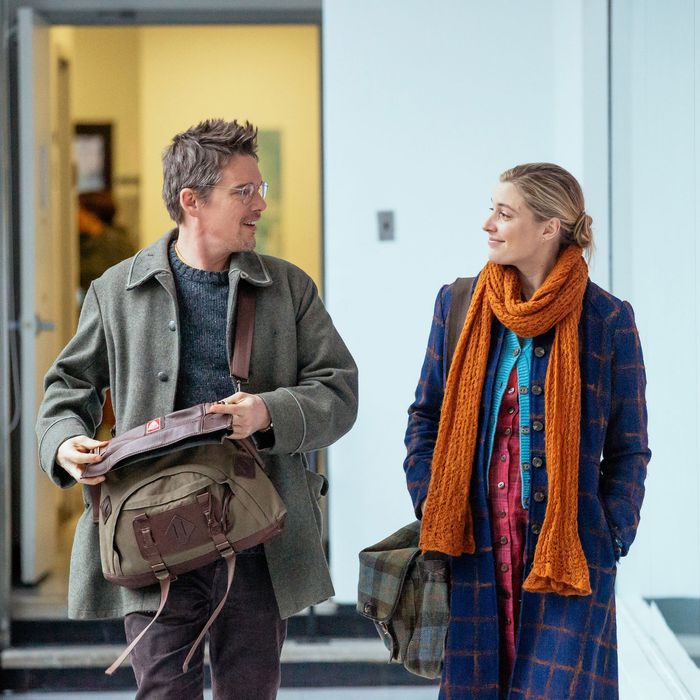 Photo: Sony Pictures Classics
As the 30-something title character in Rebecca Miller's lively comedy Maggie's Plan, that darling of American indie cinema Greta Gerwig dithers and rolls her eyes and clomps around in hideous overaged-schoolgirl outfits: She forces me to exhume that most gruesome of adjectives, adorkable. The problem, though, is not so much her performance. She is charming. She is — damn it — adorkable. But she's just too… Greta Gerwig-ish. The familiarity of her shtick robs Maggie of uniqueness, at least in the film's wobbly first third, when we can't tell if the heroine is supposed to be this much of a flake.
When we meet her, Maggie has just decided to have a child on her own with the help of an acquaintance named Guy (Travis Fimmel), the bushy-bearded proprietor of an artisan Brooklyn pickle company. (It's a real one, actually — Brooklyn Brine.) "How much involvement do you want to have?" she asks Guy, and before he can answer says, "I would suggest none." Which is too bad. Despite a tendency to hover too close to people's faces, Fimmel's Guy seems soulful. But Maggie is looking for someone less socially unformed.
She works at the New School in New York, where, in the midst of her planning, she encounters John (Ethan Hawke), an adjunct professor of something called ficto-critical anthropology. They meet cute in the bursar's office: Her last name is Hardin, his is Harding. Cowed by Georgette (Julianne Moore), his severe Danish wife and a tenured professor at Columbia, John gives Maggie a chapter of his first attempt at a novel. When she loves it, he decides he loves her, and she loves him back. He leaves his wife and two kids. Maggie becomes pregnant.
To get a handle on Maggie's Plan, it helps to know some history. Miller's screenplay is based on an unpublished story by Karen Rinaldi, a well-regarded book editor who was "the other woman" in an affair chronicled in Catherine Texier's sexually explicit 1999 memoir, Breakup: A Love Story. (With her husband, Joel Rose, Texier edited the literary magazine, Between C and D.) Texier is French, not Danish, but her writing has the same histrionic style as Georgette's. (The book is full of likably fulsome passages like this: "Sometimes I feel like a vampire, sucking on our life to create writing out of it. The words are stigma that I'm imprinting on the yellow pad, to bear witness." It's like she's playing a wounded intellectual.)
But the movie doesn't feel like a counter-revenge saga. Quite the reverse. It's not long after Maggie and John get hitched that he starts to act like an entitled artist, leaving the cleaning, cooking, and child-rearing to the women. And Maggie's identity is further undermined by the publication of Georgette's memoir about the end of her marriage. Maggie seems well and truly marooned.
Georgette is played by Julianne Moore, and you would be justified in saying her performance is an outrageous caricature — and I would be justified in saying thank God for that because Moore is glorious and kicks the film into a higher comic gear. As in her pitch-perfect performance as the faux-British Maude Lebowski, Moore is broad but so finely detailed that single syllables can make you whoop with joy. Her words come out curdled by nihilism; for extra impact, she bites off the ends of her sentences. She cuts off Gerwig in mid-dither.
Actually, Gerwig is much better when Moore enters the picture, and so is the picture itself. With three main characters, the geometry gets tricky. This "other woman's" fantasy of restoring an order that she has upended turns into a hyperliterate screwball comedy, with the blinkered male passed from one female to the other. John is a self-centered fool, but Hawke is such a generous actor that his essential innocence comes through.
Maggie's Plan doesn't quite gel, but it's very enjoyable, and it has a solid emotional core. Rebecca Miller is the daughter of Arthur Miller, which is only relevant because a lot of her work features famous-moralist fathers who show childish irresponsibility toward their families. Her semiautobiographical The Private Lives of Pippa Lee (2009) was an attempt to liberate her photographer mother — the last of Arthur Miller's wives — from her father's shadow, and in Maggie's Plan she gives us a heroine who figures out a way to liberate herself. It's a silly fantasy but a potent one. You watch Maggie formulate her daft scenario and think, "Okay: It's a plan!"